Madhugiri
Fact File:
Madhugiri is a place in the Tumkur district 40kms away from Tumkur. Overlooking the town of madhugiri is a large hill,believed to be the second biggest rock dome in the area,the first being savanadurga.There is a historic fort on top of the hill,and the maidanahalli blackbuck sanctuary is 20 odd kilometers away.
How to get there:
Plenty of Buses both (Govt. and private) operate between Tumkur and Madhugiri.
And Tumkur is well connected to Bangalore via Train and Bus Services.
Getting to Sanctuary : On the way to Hindupur from Madhugiri take a deviation at a place by name "Paruvara" to reach the sanctuary.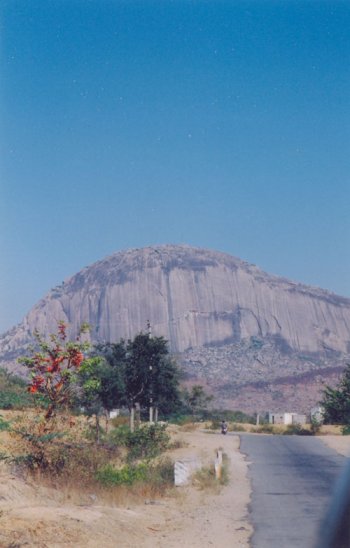 Madhugiri, Tumkur.
A place in the Tumkur district which has a Blackbuck sanctuary nearby. The place also has a monolith which is said to be the next highest after the monolith at the Sawanadurga.
There are various places of interest nearby. The Chennarayana Durga, Devarayana Durga, Siddara Betta are among the few. There are two ways to reach Madhugiri from Tumkur. After one leaves Tumkur there is a deviation which takes you to Siddara Betta and Chennarayana Durga en route Madhugiri. The other deviation will take you directly to Madhugiri via Koratagere.
Though Madhugiri is not so commercialised, one should not have any problem finding light food. Better carry your food and tentage along with you with lotsa water.

The highlight is the rock dome,atop which stands a fort ,once attributed to Hyderaali. There are a series of doorways leading to the top and the climb is steep and exposed in some places.On the top is ruined Gopalakrishna temple.
The sanctuary: The blackbuck sanctuary is not in madhugiri as per the popular belief. It's at "MAIDANA HALLI" which is about 20kms east of madhugiri. There's no bus to the actual sanctuary itself (5 kms off maidana halli).
No accommodation available at the sanctuary So overnight stay is permitted only if a prior permission is sought from Tumkur Forest Dept.
The facility is maintained is supported and maintained by the Forest Department of the State Government by collecting a small fee.
About the black bucks: These are really the gems of the spot. Tough they are sighted in groups, observing their behavior takes really good patience. Black bucks often provide a great challenge to photographers.