Devarayana Durga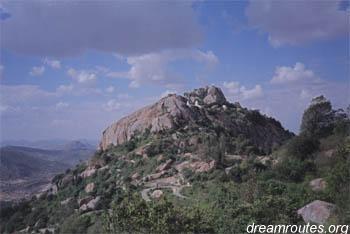 Fact File:
A place in the Tumkur district 50kms away from Bangalore, and is famous for its temples. Good roads make a pleasurable journey all the way to the top.
How to get there:
Few Buses both (Govt. and private) operate between Tumkur and Devarayana Durga, though they don't have any fixed timings And Tumkur is well connected to Bangalore via Train and Bus Services.
Devarayana Durga, Tumkur.
A place in the Tumkur district which is famous for its temples,and is a good piece of land for climbers with numerous rock formations.
There are various places of interest nearby. The Chennarayana Durga, Goravana Halli (famous temple of Goddess Lakshmi), Siddara Betta are among the few. There are two ways to reach Devarayana Durga, one from Tumkur and for the second, one has to take deviation to the right before Tumkur on Bangalore-Tumkur road.
It is the habitat of the Yellow Throated Bulbul, which is one of the endangered birds. Devarayana Durga state forest is also home for lot of wild animals such as common deer, leopards, bears, including the elusive tiger.
Just before Devarayana Durga, you see a natural spring called "namada chilume" on the foothills. This has a historic background relating to early chOLa's regime.
Some more related links:
India Birds