Channa Rayana Durga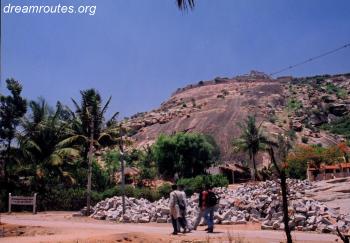 Fact File:
Channarayana Durga is 10+Kms from Koratagere on the way to Madhugiri from Tumkur. Koratagere is 30+Kms from Tumkur.
Distance from Bangalore : 80+Kms
Nearest Hospital : Koratagere.
Nearest food point : Koratagere.
Nearest Petrol Bunk : Koratagere.
How to get there:
Plenty of buses operate between Tumkur and Koratagere, Madhugiri. But the number of buses going to Channarayana Durga village is very limited. One has to take a deviation to the left after 2kms from Koratagere on the way to Madhugiri
Being one among the Nine Durgas (Forts) fort atop Channarayana Durga hill is the center of attraction. The village at the foothill is not too big either.
There are few temples old structures inside the fort. Though most of the place is in ruins without any care, the most of the place seems intact and still looks good.
The forest around Channarayana Durga and other places like Madhugiri, Devarayana Durga are habitat for the Yellow Throated Bulbul. There is plenty of other wildlife as well.
These places are mostly not crowded so one has to arrange for her/his food and tentage. Most important Water is not available in plenty here. Villagers are kind enough to guide you to the place once you reach the village at the foothill.