baLekallu gudda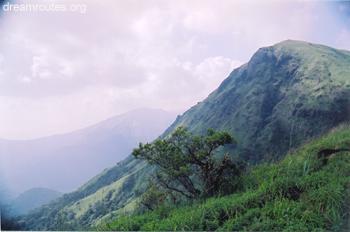 Fact File:
baLekallu gudda is around 15kms from CharmaDi in South Kanara district.
Distance from Bangalore : 350+kms.
Nearest Hospital : Ujire 8+kms.
Nearest food point : charmaDi.
Nearest Petrol Bunk : Ujire 8+kms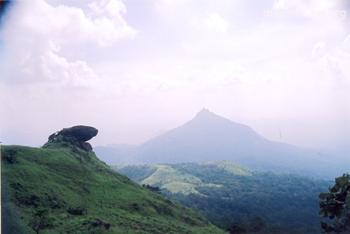 kodekallu with Erikallu in background

baLekallu gudda is one of the highest hills in charmaDi ghats in South Kanara district. This hill is on the border of Chikamagalur and South Kanara Districts.
There are few more hills around this, the next highest being the Erikallu gudda, which is nearer to charmaDi. jenu kallu gudda, koDe kallu gudda are the other hills. The alekhan waterfalls near this place is 4kms before kottigehara from charmaDi.
From here one can get a very good view of the baLLalarayana durga. This place has beautiful sholas, flora and fauna esp. Bisons. Though these places are very near to the main road one must carry their food and tentage.
The ride on the ghat road itself is a experience esp. on a cycle from Dharamasthala to Chickamagalur.
Other places of interest nearby are : donDole falls
How to get there:
A state transport or private bus/jeep from Dharmasthala to charmaDi (18kms) can be the starting point to visit the place around.
read a trip experience