Shivagange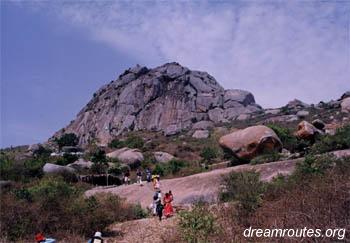 Fact File:
Shivagange is 8+Kms from Dabas Pet on the way to Tumkur from Bangalore on NH 4.
Distance from Bangalore : 50+Kms
Nearest Hospital : Shivagange, Dabas Pet.
Nearest food point : Shivagange.
Nearest Petrol Bunk : Dabas Pet.
How to get there:
Plenty of buses operate between Tumkur and Dabas pet, Shivagange. From Bangalore also quite a number of buses are available. Many private operators also run between Dabas pet and Shivagange.
Shivagange gets its name from the Holy places and temples it hosts. The spring water found here is considered to the sacred water 'Gange'.
The hillock has few temples atop and a statue of Nandi carved out of single stone is a beauty. It is about two kilometers from the bottom of the hillock where there is a village to the top of the hill. There are many temples all along the way.
The place being a huge collection of boulders and solid granite rock structures, it invites not just pilgrims but rock climbers and adventure lovers as well. Though there are no bolted routes, there is plenty of climbing.
The places is mostly crowded all the time, thanks to the temples. At the same time it because of this number one can find the place very much dirty and full of garbage, plastic being thrown everywhere. Adding to this the shops over here sell water and other beverages in plastic sachets. People both local and visiting kind need a education here on this point.
People of "

trek2clean

" have endeavored the task of educating the people and making it a plastic free zone. If you are interested in joining you can contact them at
trek2clean (at) hotmail.com
read more here