Kabbal Durga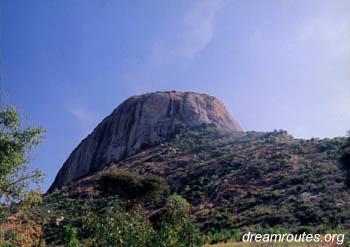 Fact File:
Kabbal Durga is 75Kms from Bangalore City in Bangalore (Rural) district and is around 15kms away from the Kanakapura and 22kms from Channapatna.
Distance from Bangalore : 75kms.
Nearest Hospital : Satnoor.
Nearest food point : Kanakapura (satnoor, kabbal have small tea shops).
Nearest Petrol Bunk : Kanakapura.
How to get there:
On the way to Bheemeshwari from Kanakapura after 13kms there is a small place by name Satnoor. Here one has to take a deviation to go to Kabbal village. From Channapatna on Bangalore-Mysore road also this place can be reached.
Though there is less frequency of state govt. buses, there are few private buses operating.

A rocky hill with a temple of Goddess KabbaLamma at the top in Bangalore (Rural) district just a few kilometers away from the Kanakapura Bheemeshwari road.
The Kabbal Durga gets its name from the Goddess KabbaLamma and fort (Durga is Kannada for fort) present at the top of the hill. Only the ruins can be seen now.
There is a village by the same name at the foothill.
It also has few climbing routes (two bolted routes) and a numerous opportunity for explorations. Though an easy walkup will take a common man to the top, numerous the climbing routes tempt any climber.
Though not much of crowd visits the hill, but surely the temple at the Kabbal village is a crowded place.
read a trip experience