Waate HaLLa Falls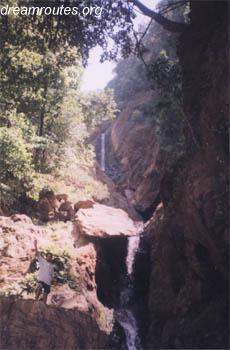 Fact File:
Waate HaLLa falls is 30+Kms from Sirsi in North Kanara district.
Distance from Bangalore : 430+kms.
Nearest Hospital : Sirsi.
Nearest food point : Aminalli (Tea shop), Sirsi.
Nearest Petrol Bunk : Sirsi.



One of the numerous waterfalls of the Western Ghats. This beautiful waterfall is at few kilometers distance from Unchalli Falls.
A tributary to the Aghanashini River makes this wonderful falls some 30kilometers away from the Sirsi Town falling from a height of around 100+feet.
The water bigger than stream and smaller than a river, by name Waate HoLe makes this visual treat. 'Waate' is the local name for the river side bamboo which can be found in plenty here. and hoLe is KannaDa for a medium sized river.
This places is also quite close to one more water falls by name Unchalli Falls. And the beNNe hoLe falls. The Sirsi-Kumta road is the main road connecting to the nearest places to these places.
Other places of interest nearby are : Yana, Unchalli Falls, BeNNe hoLe Falls.
How to get there:
Take a bus from Sirsi which goes to HaggaraNi, get down at a place by name Nilakunda. From here it is 3kms walk to the valley, where one has to climb down to reach the Waate HaLLa falls.