Vibhooti Falls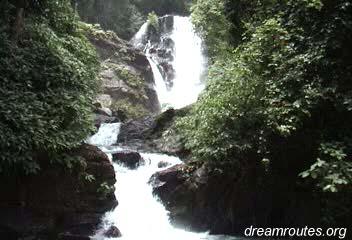 Fact File:
Vibhooti falls is 50Kms from Sirsi in North Kanara district and is around 8kms away from the Yana.
Distance from Bangalore : 400+kms.
Nearest Hospital : Sirsi.
Nearest food point : Devanalli (Tea shop), Sirsi.
Nearest Petrol Bunk : Sirsi.


How to get there:
Take a bus from Sirsi which goes to Mattighatta,Devanalli via Hegadekatta.You will not get a bus which takes you near the waterfall you will have to walk the Vaddi Ghat after you get down at Vaddi cross or Yana
see more pictures

One of the numerous waterfalls of the Western Ghats. This beautiful waterfall is at few kilometers distance from the place Yana.
Along with the two huge rocks there is one more limestone rock structure (which is quite small in size compared to the giants) in the vicinity. When asked a localite said the waterfall got the name as Vibhooti falls because of this Lime Stone rock nearby.
Once the Vaddi ghats are over you can feel the humidity of the coastal Karnataka (Coast is few hours journey from here). One will have to take a deviation at a place called Mabagi. From here the water fall is around 3kms distance. Though one finds few houses nearby the tentage and food are the items one should pack.
When we visited this wonderful place we gave a visit to Yana also. To our horror we saw roads under construction till the foothill of the Giant rocks. In our previous visits we enjoyed walking on a small path in the thick woods to the place. One could not have imagined that there would be a road sometime in future to Yana. Road for a four wheeler. We believe it won't be long we have all the facilities of a picnic spot. Why people are so fond of facilities?
Other places of interest nearby are : Yana, Unchalli Falls, BeNNe hoLe Falls.