Rangana Tittu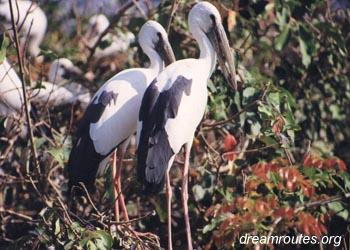 Fact File:
Rangana tittu is a famous bird sanctuary on the way to Mysore from Bangalore. This is near to one more historic place SriRanga Pattana.
How to get there:
On the way to Mysore from Bangalore one takes a deviation to the right before Sriranga pattana. One can find quite good number of state transport vehicles to the place. A private vehicle is also handy in case of "lets go slow" schedule.
Rangana Tittu, Mandya.
This is one of the most visited famous Bird Sanctuaries in the Country. It is easily accessible too. Being near to historic places like Mysore, SriRanga Pattana helps.
In the season one can find plenty of painted storks, herons, River terns, Ibis etc migratory birds. This place has a small boating facility for watching the birds. The facility is maintained is supported and maintained by the Forest Department of the State Government by collecting a small fee. Though There are few shelters around one may not find a place for accommodation. For which Mysore is the best place.
This place is also heaven for enthusiast photographer, both the professional and the amateur alike. being in the middle lush green fields of the agricultural fields of the Mandya district the surrounding places are also equally serene.
Other places of interest nearby are : Mysore, Sriranga Pattana, KRS, Kuntibetta