Rangaswamy Betta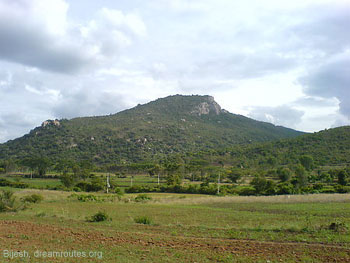 Fact File:
Rangaswamy betta located in Bangalore Rural district at around 50 kms away from Bangalore city in the southwest direction.
How to get there:
One can reach Rangaswamy betta via Harohalli on Kanakapura road. From harohalli take the left turn on to the road goes to maRaLavaDi. From maraLavaDi this hillock is around 8+kms away on the road to KoonaDoddi village.

Rangaswamy betta
Rangaswamy betta is a hill overlooking the town of Kanakapura. It is one of the highest hills in the area. Its is also called as biLikal betta due to the whitish rocks near the summit that is visible from a long distance. Atop this hill is a small temple and a house where the pujari lives. The pujari's house has an elephant skull which is quite interesting for the first time visitor. However, the temple is very popular with local villagers and it would be best to avoid visiting the place on a festival day if one is looking for a quite day out.
The vegetation is quite thick especially post monsoon season . The adjoining forests are known to harbour elephants and other wildlife endemic to the area..
The view from the top is very picturesque as one can see the hillocks from the surrounding Kanaka pura range , mainly BM betta, KabbaLa durga to name a few. Even Sawanadurga can be seen on a clear day