this place is a favourite among the climbers both in india and abroad. The type of rock here is red sandstone. The crag has miles of sandstone to offer for any climber, be it a beginner or a professional.

There are various bolted routes as well. Badami is around 70 kilometers from Hampi, the mecca of the climbers Because of the nature of the sandstone the climbing here is a enjoyable expereince unlike the hard granite stuff. All through the year climbing is possible here but summer is not really preferred (too hot rather) owing to the geography of the area.


GETHNAA has a rock climbing training center here which is used when there is a camp organised.Otherwise the involvement of locals seem to be quite low.

word of caution: be careful while climbing in here, as this crag and surrounding areas are home of the poisonous vipers.


Staying and food should not be a problem. However there are a couple of lodgings, one can comfortably pitch their tent near the rocks and stay. Food available here is pretty good and very native.

The other places of interest are the cave temples, the archeological museum, the banashankari temple (5kms from busstand) and Aihole and Pattada kallu (30+kms). The chalukya's built these cave temples.

Hubli is 100+kms and Bangalore is 500+kms from Badami and there are good number of state transport service buses running.

Some glimpses of the crags of Badami Sandstones.


A Rough Map of Badami.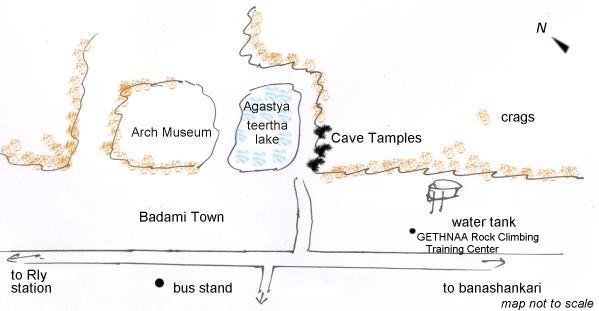 A rough map of the Badami. The places with light brown markings are the crags. Many good hotels are near the bus-stand. The road leading away from Badami town in opposite direction is the Ramdurga Road.