Through the clouds and into the sky by Nityanand Nayak.


Photo journal | Original Article
Over 250 million years ago all the earth's land was a single super continent called Pangaea surrounded by ocean. Then about 200 million years ago, Pangaea began to split into different land masses and move in different directions. It was the time when dinosaurs reigned, and the first flowering plants appeared on the earth. Two land masses, the Eurasian and the Indian sub-continent, moved closer and closer.
About 60 million years ago, those two plates collided and began to push each other like bulls in bull fighting. This pushing made the earth's crust squeezed upward. After the collision the Eurasian plate overrode the Indian Plate. The sediments of the sea (Tethys sea) between these two landmasses were pushed up forming accordion-like continental mountain ranges. There was the Himalaya. And there was Goecha la.
Its a dream come true. Don?t know why or how the name Goecha la struck me 2 years ago. Was it the name or was it because of the pictures of saw.? But since then its been an enigma. It remained a far away place on - on the dark side of the moon for all that mattered, a place so lovely that it can be only in dreams.
Sometimes things just happen. Oh so easily. This time my attempts to make goecha la happen just fell into place. Fiends, tickets, time, money et all just cam together so smoothly. And off we were on a 3 and a half-day train journey to Sikkim. Braving the soaring temperatures and bustling crowds and the - now familiar - pleasant shock of actually being in a place Ive only heard of, we managed to reach our 'base camp' - Yuksom - for our trek. Yes. Finally a trek in the Himalayas.
So what was different in this trek that sets it apart from the umpteen treks Ive done before. Yes this would be my first trek in the Himalayas. Other than that? Nothing. After all, Ive seen mountaineers on National Geographic climb K2 as if it was their everyday business. I had the gear to protect myself against the elements. I have been trekking long and hard enough to sustain myself through this. How hard could it get? I had people who just returned from Goecha la tell me that it was cold up there. How cold could cold be? How far could it push me? Or so I thought.
A 6hr walk trough dark, thick humid forests from Yuksom to Bakhim left us cold & wet. The incessant drip of cold water on the head and the walk through slippery muck left us pretty irritated. A hot Wai Wai lunch and 5 minutes by the cooking fireplace, got us warm enough for another 1.5 hr (slippery) climb to Tsoka. Hunger gnawed when we got there. The hot kichidi cooked for us by the porters was ravenously put down, which I entirely threw up during the night. (Indigestion or Altitude already?) leaving me pretty dehydrated by morning. Another 2 hrs to Phedang showed us some of the most Majestic view of the mountains we had ever seen and finally some pretty good sunlight!!.
I couldn?t even have imagined a climb so steep. The route from Phedong to Dzongri went by a very steep, exposed mountainside, icy cold gale force winds whipped up trying to force us off the mountain. Some rain near the supposed end of the incline and a sudden snowstorm left me cold and terrified silly, scampering for cover (infact run) to our next campsite. The effect of altitude was telling - I was gasping for air after the 'dash'. And the coldest Ive felt.
The next mornings (4:00 am) climb to Dzongri La was what stuff dreams ore made of. The most beautiful moon-set (full moon) and sunrise Ive seen over huge mountains like Kanchenjunga, Pandim, Tensinghan and Black Kabru.
The next mornings (4:00 am) climb to Dzongri La was what stuff nightmares are made of. The temperature was about -10. One false step in the slippery snow and you find yourself slipping into oblivion. Sometimes I felt I was climbing down as much as I was climbing up. And to top off all that you should have seen the fun I had getting down!!!
Snow is slippery when wet or so I really learnt when we descended to Kokchurung. It was so steep that I ended up with both knees screwed up. A big ??? hung over my ability to carry on.
But carry on I did. A slow limp towards Thangsing in a blinding, cold ,tiresome 'whitewashed' snowstorm. Halfway through it had become mechanical. I just knew that I had to put one step ahead of another and heave my backpack and myself up and Thangsing would come. The pain was gone. The cold was gone. Numbness. What mattered was to get there. The reward for reaching the hut was life itself. And cups of lemon tea, coffee, fruit soup.
Goecha la was unreachable. At least on this trip. This was the conclusion we reached after our discussion that evening. Our food supplies were running short, our gear was grossly inappropriate and thee out of four had some kind of ailment (2 with knee injuries and one coughing badly). But we had our 'Summit bid'. Early next morning, we dashed off with only minimal luggage to Samiti Lake (14500 ft). God smiled on us that day. And so did the weather. I would have traded anything for that half hour I got at Samiti lake.
As if we weren't having enough fun, we were witness to the longest snow storm on our trip so far.. all of 10 hrs...a complete and thorough whitewashing job of the mountains..from the kokchurung hut that evening.
I had never been pushed to the limit before. The 13 hr walk back to Yoksum next day did that. And just beyond.
So now waiting for the swelling in my legs to reduce, my knees recovering, my toes all smashed up and blue, I wonder did I complete the Goecha la trek ? No. But is it important?. To some it is. The experience of standing between these mammoth mountains, and to realize how puny, fragile and insignificant you are is good enough for me. I just play the game. Getting to the top is a bonus.
Some may ask. Was all the trouble and pain worth it? Some things are difficult to describe. You have to do it for yourself. Like I read somewhere.. Laughing on the way to your execution is not generally understood by less advanced forms of life.
- - X - -
The full story....Photo Journal
Finally I'm doing what I what I wanted to do for a very long time. The Goecha la trek. Everything came together like a jigsaw puzzle. The tickets were easily available. Managed to get the leaves. The trek itinerary was fixed in a jiffy. All thanks to effort of lax. I have to saw he has been a big influence on this one. Good company too. Matta and JC tagged along.
All right this is what we plan to do. Lax earlier managed to contact this guy Rakesh over the net. Through Rakesh we managed to get a lot of info.
Our train journey takes us thru Chennai, Kolkata, and NJP. From there we plan to take a taxi to Yoksum. Trek to Goecha la and be back at Yoksum in 6 days (Ambitious!!!). And take a return journey the same route.
I have a handy this time to shoot our progress.
22/4/02
Had an uneventful train journey on the Chennai mail. Now rushing towards Kolkata in the Coramandel express. (Good train. Not many stops and very fast. Alas the food service is not so good)
23/4/02
Ever wondered how it feels to sit inside a metal cubicle, with a summer suns continuous glare on it, hot air blowing continuously from the sides ? Get a picture? Well I was inside this 'Oven' all of yesterday. Must have easily sweated out at least 10 lts of water. Makes you feel all sticky and lethargic. From 10 am to 5 am, we were in hell. Then after a hanky bath , it felt a little better. Now I know how 45 deg feels!
Food on the train is hard to come by. in my earlier travels, I was pestered by every damn waiter-- chayeeaaa, kappeeeee, cutlaaait.... On this one you have to really look.. Bf was not available.
Sun is climbing high again.. Looks like we crossed over into WB from Orissa.. With matta wanting to sing... I?m wondering.. when will Kolkata come?
25/4/02
Holed up in a cozy wooden cabin, snug in my sleeping bag, gloves on my hands, thermals from top to bottom, monkey cap on my head et al. Cant believe it. 2 days ago I was cooking.. Now its unbelievably cold. And this is just the beginning!!! Ok so let me go back a while.
We reached Howrah station at 2:15 pm on 23rd & that station is in one hell of a mess. How could a railway station be like that? I mean, there are totally 18 platforms, construction activity in every platform, air thick with dust and people occupying the rest of the available space. It was bewildering --- utter confusion. Tried to search for that silly ' Yatri' hotel and finally managed to find it in 0.5 hr outside that ' Naya' station. All of us were famished. 'Budda' waiter taking his own sweet time served us. A 'meal' later we caught a taxi and went thru one of the craziest drives Ive been subjected to in my life. Narrow streets - Buffaloes, humans et all trying to cross them. And our driver pal merrily honking away to glory... Reached Sealdah station 30 amusing minutes later, booked a room and had a cool bath.
Sealdah is a pretty neat (new) station. After an overnight uneventful journey on the Darjeeling mail, woke up to see polls of stagnant water everywhere... musta rained pretty heavily..Is this an indicator of things to come.?
Reached Overcast NJP at 8:30 am and right there was Rakesh. Booked a taxi (rs 1800 ) to Yoksum (7 hr drive). After a brief shopping break a Jorethang (purchased all stuff here since its expensive up at Yoksum) and just as we were approaching Yoksum, our Mahindra hard top got stuck in slush. An event to brighten up our lives further after that exhilarating drive thru the mountainside. 15 people tried for 1/2 hour and shouted at the top of their voices to free the jeep. Reached very heavily clouded Yoksum at 5:30 pm.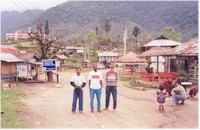 Finished the rest of the shopping and booked two porters (Sanam Tensing Bhutia and Ram Singh) cool strong 10th std guys - for rs 150 a day.
Morning on 25th and it was raining. Heavily. Registered at the Sikkim tourism office declared our cameras... , and booked trekking huts along the route.. (Sikkim tourism is expensive... Charging Rs 1000 for the handycam... ;-)of course I don?t have a handycam!!)
Yoksum - Bakhim - Tsoka
I had heard rumors that the first day trek was tough. Don?t believe it. Its the toughest. My god. I was jut not mentally prepared for this. Started at 1700 m at 8:15 am and got into a very dense jungle, & went thru innumerable stops, coooold weather, miserably wet conditions and slushy mud. Managed to crawl into Bakhim and went right into the first house we saw at 3:00 pm. It was warm heaven. They cooked for us hot wai wai (like Maggi), tea and we had the cooking fireplace all for ourselves. Other than biscuits we had not eaten anything since the morning bf at gupta's and as if on cue dysentery had started. boy was I dehydrated !!!
After that brilliant lunch, we left for tsoka, and another 2 hrs of climbing over slippery mud(all uphill) and just as were nearing tsoka, we just got a glimpse of the mountains!!!!
Have just dunked a kg of hot kichidi into me. I?m all invigorated. The moon is out but hidden occasionally by passing mist. Altitude is 3000 m and temp is 5 deg.
Due to rain / cold & miserable we conditions, I haven?t touched my camera till now. Hoping for warm sunshine tomorrow.
26/4/02
Tsoka - Dzongri.
Previous night kichidi didn?t go too well... Had to throw up the entire thing during the night... (Indigestion or Altitude?) And sunshine it was (although not warm) early morning (4:30 am). And what a view it was!!!! The Singalila range in all its glory.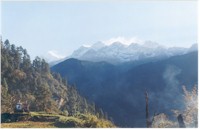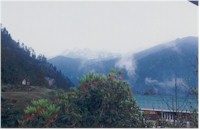 A lovely photo session later, a thukpa (yuck!!) breakfast later we set off to Dzongri.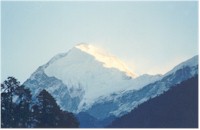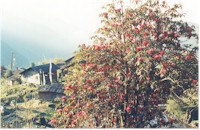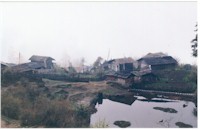 Citing nothing new, it uphill all the way(The climb up never seems to stop) thru lovely rhododendron forests. At 11:00 am reached Phedong. An even more amazing place.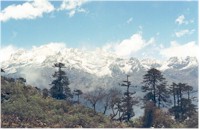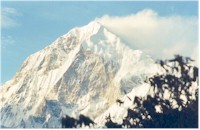 For a few minutes we got amazingly clear view of the mountains and then it was all gone in a wall of white.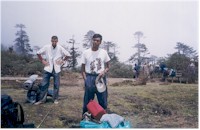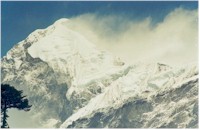 And up we went again. This climb is simply out of this world (It must be on mars or something). Looks like the way up to the heavens. And the heavens welcomed us. With snow!!!!!.
When we were climbing the supposedly last uphill stretch, it started to rain, then in another couple of minutes, it started to snow. It got blllooody cold..and windy...I was alone on that stretch ... it got a little terrifying, disorienting etc(I had never . been out trekking in snow before)..Finally with 2 inches of snow on my backpack reached the dzongri trekkers hut(3950 m). We immediately snuggled up into the sleeping bags. The storm beat itself to a frenzy and the next 2 hours was pure madness. Doors and windows banging open and the snow letting itself in!!!. The storm subsided, laying a lovely blanket of snow, leaving behind a lovely cold clear evening. So we thought we would just climb a small hill. The scene being that hill cannot be described. It has to be seen to be believed. So what if it was very very windy and cold?
27/4/02
Dzongri - Dzongri La - Dzongri - Kokchurung - Thangsing
When I came out in the morning I couldn't believe what I was seeing. The sky was completely clear with a huge full moon over the mountains. It was almost dawn. Dawn comes early in the Eastern Himalayas. Grabbed my cameras, woke up the others and ran up the hill. And halfway there , found out why people don?t run up in the mountains. Firstly its cold and you are all rusty. Then Up above 4000 m without proper acclimatization, when you run you almost instantly collapse with exhaustion. When I reached a good enough vantage point, the moon had almost gone behind the mountains. Took out the handy cam and managed to shoot it just before it disappeared. Then began the arduous climb to climb to dzongri la, to catch the sunrise glow.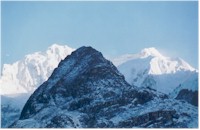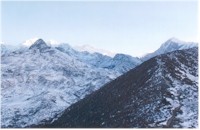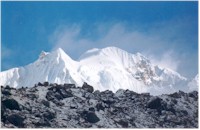 Snow below my feet , made the climbing tough. At some stages, I was coming down as much I was going up.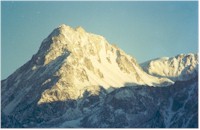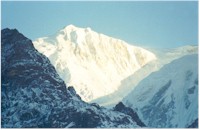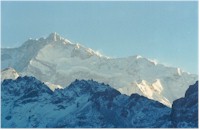 My fingers were frozen stiff and were paining. I couldn?t feel my toes in my shoes. Shit. When I made it to a vantage point just below Dzongri la, the sun was already up.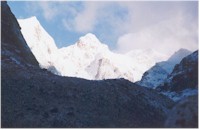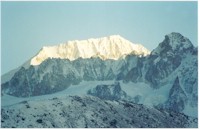 Continued .... Page 2