In July 2004 cousin Arun, his colleague Anil and I had been to Vibhoothi falls at Mabage 52kms from Kumta. By 12noon we were done with Vibhoothi falls and decided to go up the Vaddi ghat towards Yana and come back to kill time. This less traveled ghat connecting Vaddi in Sirsi Taluk and Mabage in Ankola Taluk lasts for just 5kms but is one wonderful travel experience. Narrow road, sharp curves, thick forest, steep slopes, no traffic, leaves scattered on road give a feeling of traveling in a forbidden land. To the left of one of the 'U' turns (if traveling down the ghat) is the small rainy season Vaddi Falls.

When two villagers at Yana cross told us that Mattighatta-Kelaginakeri is near by (16kms) we decided to visit Mattighatta falls. Last 2kms ride to Kelaginakeri was too good with the road leading down with nice view on the left which, reminded me of my ride to Hebbe falls via Attigundi. At Kelaginakeri we were told that it is impossible to visit the falls before September. Arun's face became small, not because we could not see the falls but because of wastage of petrol! We sat down on the banks of Hasehalla stream, which forms the falls. Anil talked about visiting Benne Falls, Mattighatta Falls and Vibhoothi Falls in one day. I liked the idea and agreed. We wanted to see 3 waterfalls in one day just for the heck of it and fixed November 1, 2004 as the date.

| | |
| --- | --- |
| I was not aware that there is lunch everyday at Durgaparameshwari temple in Manjuguni. Arun cursed me for not having this 'very important' information as if all those chapathis (he ate 14!!) were not enough! At 1.30pm we were in Kelaginakeri. Parked our bikes and started walking. The trail went downhill. 30mnts later we were at a house where radio was humming 'tera eri ambaradage nesara nagatane, maragida toogyave chilipili hakki hadyave'. We stopped to listen. A lovely teenage Siddhi girl came out seeing us and gave a lovely smile. We requested for water and then continued on our way. At the next house a grinning Siddhi boy was looking at us from his house and motioned us towards him when we asked the way. He was our guide from then onwards – Bhaskar Narayan Siddhi. | This time to avoid Arun's irritating 'save petrol' comments, I took my Hero Honda Passion from Udupi, rather than going by bus to Kumta and then depending on his Splendor. Anil came from Shirali (near Bhatkal) the previous night and stayed at his relative's place at Kumta and got Hero Honda Dawn from them. Arun wants good food and is a voracious eater, so he woke up his wife early in the morning and packed 20 chapathis and we were off at 7.00am towards Benne falls. Kasage is 34kms from Kumta on Sirsi road and Hosur last house is 4kms from Kasage. We were at the falls by 9.00am after a lovely walk in the forest for about 30minutes from Hosur last house. Benne falls presents a nice view cascading down from a height of about 120ft. Anil maneuvered his way to a point near the base and posed for picture. By 11.30am we were back at Kasage and continued towards Manjuguni – our lunch stop. |

Bhaskar is a naughty boy and keeps laughing. Arun, being the serious type didn't like him and kept asking 'why the hell is he laughing?" There are 2 approaches to Mattighatta falls from Kelaginakeri. In the first, one has to cross Hasehalla near bus stand and head upwards. This trail leads to the top of the falls and then a dangerous descent into the valley leads to the base of the falls. The second route is a trail downwards from the bus stand and leads to the stream downstream from the falls and there is no risk involved. As I believe in minimizing the risks, we took the second route and ended up at ever smiling Bhaskar's house and the area is called Mundaganamane.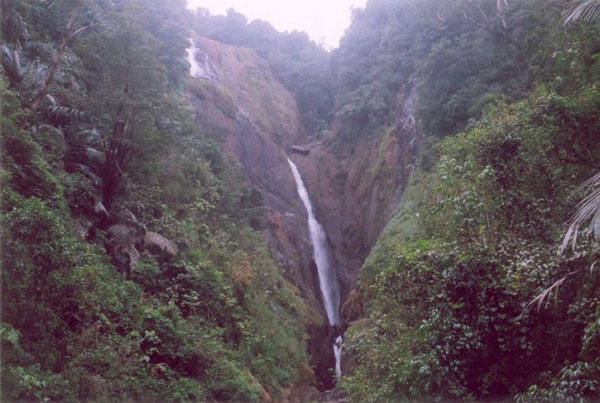 We crossed the stream and continued upstream towards the falls. Bhaskar asked Arun as to what took him so long to visit, despite living so near at Kumta when foreigners from so far keep coming regularly. First of all Arun was not liking Bhaskar's mannerism and now this question! After walking on the path alongside the stream for about 10minutes, we stepped into the stream. There was not much water and these were easy crossings by any standards, but not for Arun. He got scared at couple of places and was shouting at Anil and me for help. Now, Bhaskar threw another of his classics at Arun who is 6feet 3inches tall and well built by saying 'You look so big, but still so scared, hee hee hee'.

The stream was about 90ft wide when we crossed it and now the width was getting reduced. We could see the falls, the magnificent second stage with a height of nearly 180-200ft at a distance. It was such a fantastic sight we stopped for a while in disbelief looking ahead. The width of the stream was now about 50ft and was getting narrow as the valley got narrower as well. It was giving a scary feeling as the width got narrower and narrower and got reduced to 40ft. On both sides the height of the walls of the valley was awesome. Bhaskar and Anil got back on to the path, which itself is at a height of about 15ft from the stream and continued towards the falls.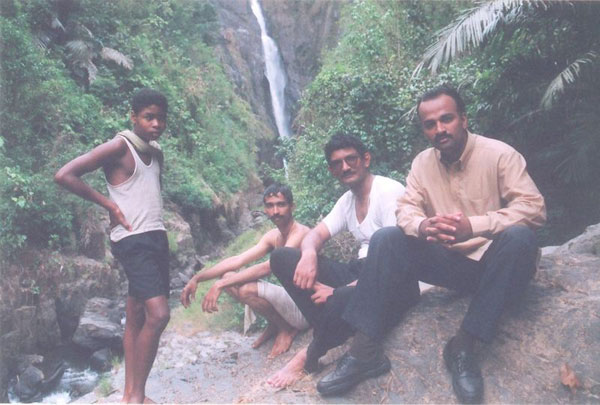 Arun and I stood in the stream facing the falls and were mesmerized by the view. The thin and long second stage of the falls is a treat to watch. The third stage is about 40ft tall and the width of the stream is about 35ft at the base. We could see Bhaskar and Anil up there very close to the second stage. Just as Arun and I decided to climb up to the edge of the stream, we heard a loud splash. Something had fallen in to water. Bhaskar and Anil were not in our sight. All wrong thoughts started coming in. To make it worse muddy water started flowing towards us because of the splash. Arun got scared and started muttering is that blood, is that blood? A minute later we saw Bhaskar emerging from green cover with Anil tailing him and we knew all is well. But that one minute felt so long. Bhaskar said with a big smile that he pushed a boulder down the slope into the stream just for fun. Arun's expressions were kind of 'where we got this item from'!



The first stage of the falls is partly visible. It is about 100ft in height and is broader. We relaxed on the slope of the valley. There is a small water body flowing down into the stream and it formed a small falls of about 30ft height on the right. Anil took a leisurely bath there. Arun, being the scary type, took bath in a very funny fashion, which made Bhaskar go nuts with laughter. He sat with feet in water. The flowing water was not even half feet deep. Gathered water in his hands and poured on his head and body. Some way of taking bath! In 20 minutes we were back at Bhaskar's house where we were treated to sweet papaya. We said bye to Bhaskar, who was still laughing remembering Arun's bath.

The lovely teenage Siddhi girl was there and flashed that smile at us again. We reciprocated gladly. At 5.00pm we were off towards Vibhoothi falls 23kms away and were in Mabage by 6.15pm. Arun decided to stay back. Anil and I ran towards falls and reached in 15minutes. Anil took his third bath of the day and I asked him to hurry up. It was dark already by the time we started back. We had trouble walking on the right path because of the darkness and managed to join a restless Arun by 7.15m. Then we continued towards Kumta and by 8.45pm we were there. Dropped Arun at his home and waited for Anil who had gone to his relative's place to hand the bike back. Parted with Anil at Shirali at around 10.30pm and continued towards Udupi humming, 'tera eri ambaradage…..' and reached home at 1.00pm. One wonderful day!!

Pleasant and safe trekking to all.

Rajesh Naik.


more photos http://karnataka.fotopic.net