My first ever journey/trek was on 1st June 2003, a Sunday. It was yet to rain that year and the rains were less previous year. As a result, Madenur Dam (Hirebhaskara Dam) near Sagar had risen from its watery grave and was visible in total to outside world. The Hindu and Vijay Karnataka had carried detailed articles about the 'again visible Madenur Dam'. Some excerpts from those articles in the next paragraph.

Construction of Madenur Dam was started in 1939 across Yenneholey, a tributary of Sharavathi and completed in 1948. The location of this dam is about 20kms upstream from Jog. The purpose of building Madenur dam, which is 114ft in height and 3870 ft in length was to ensure steady supply of water to Mahatma Gandhi Hydroelectric Project at Jog. The inauguration of both the dam and power station was scheduled for 2nd February 1948 but was postponed because of Mahatma Gandhi's assassination. The power station, which was earlier named Krishnarajendra Wodeyar Hydroelectric Project was rechristened Mahatma Gandhi Hydroelectric Project and was inaugurated along with the dam on 21st February 1949. When Linganamakki Dam was built Madenur dam lost importance and submerged in the Linganamakki reservoir. When Linganamakki dam attains maximum storage capacity of 1819ft, Madenur dam is about 15ft under water.


It was just a month since I had got my third hand Yamaha RXG and at last my dream of going on a journey was about to be fulfilled. Colleague Prashanth agreed to join. Plan was to reach Sagar from Udupi via Kundapur, Byndoor, Bhatkal, Kogar, Kargal and Talaguppa. Then proceed to forest department gate, 30kms from Sagar on
Holey-Bagilu road. At 6.30am we started from Udupi and after crossing Byndoor, visited 'Kshitija Nesara Dhama'. The view of Byndoor river joining sea is fabulous.

It was 11.30am by the time we left Bhatkal for Sagar. I had assumed the distance from Bhatkal to Sagar to be around 50kms and to my shock it was 110kms! At around 12.45pm we reached Bhimeshwara Cross and visited Bhimeshwara temple. The old priest welcomed us and showed us the temple. It is a very old Lord Shiva temple supposedly built by Bheema. We could have bypassed Jog and proceeded towards Sagar from Kargal but Prashanth had not seen Jog falls, so after seeing the dry Jog falls, we raced towards Sagar and were there by 3.45pm and the distance covered was 206kms.

We reached the forest dept gate at 4.40pm. 14 guys on 7 two-wheelers were waiting for the gate to be opened. Permission from forest dept office at Holeybagilu (2kms further) is must to enter. Soon a guard came and opened the gate. We moved in (luckily the guard assumed that we too were part of that big group) and continued towards the dam. The 6kms ride was bumpy and at a place there is a 'katte' (platform) around a large tree. There it was written 'madenuru santhe nadeyuttidda sthala' (Madenur market used to be here). We stopped and looked around and I could imagine people walking around, elders sitting on the platform chatting, womenfolk selling vegetables and people bargaining with them, bullock carts around all in what was Madenur market 55-60 years back.


At 5.00pm we reached the dam site. The dam was beyond a small hillock. We continued on the dry bed of the Linganamakki reservoir. We could see the remains of old tar road, floor of houses, etc. We parked the bike on the old tar road and started to walk. Soon we were on top of the dam. I was bowled over by its beauty. Just could not imagine a dam like this could have been built 50+ years back. The dam was built using the siphon system by one Ganesh Iyer.
The dam has 11 siphons, each 18ft across and 58ft high. The mechanism of siphon system enabled water to be flushed out of the reservoir automatically when it touched the optimum level. The marvel of the siphon construction is understood when it is viewed from close. Each siphon has 12 pillars and a 'well'. The well forms the inner ring and the pillars form the outer ring. When this well fills, which automatically means the dam is full, the water flows out of the siphon through the 3 openings at the top of each siphon. While walking on these siphons one needs to be careful. The 3 openings on top of the siphons are drilled close to each other and are large enough for a person to fall through. A narrow concrete bridge connects one siphon to another. The bridge on top of the dam is at parallel to the siphons. There is provision from bridge to walkover to the top of each of the 11 siphons. There is a narrow staircase of about 40 steps which leads to the base of the siphons from the bridge.

After the siphons, there are 3 crest gates with large amount of water around them. Gigantic iron gates with water around made the crest gates look like deep black holes. One can get down 6-7 steps from the bridge, walk along the length of 3 crest gates on a narrow corridor of 2ft width made of iron sheet and then climb back to the bridge. Caution is must while walking on this 2ft width walkway. Not many people take this detour as it is risky and prefer to walk on the main bridge. The landscape is similar to any submerged area. There is a large single tree with remains of a small temple under it.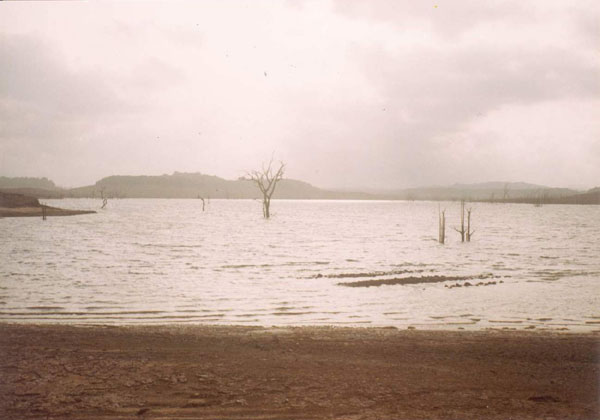 There was so much to see at the dam and so little time on hand I had no time to take many pictures. The long distance back home was weighing on our minds and the sight of sun going down made us hurry. Golden rule whenever on journey is to make maximum use of the time and I realised it after returning from my first journey itself. Till today, I am repenting for not staying around the dam for half an hour more to take more pictures. By 6.15pm we had to start back. We had traveled for about 5kms when we saw a diversion with a road sign saying 'Kundapur, Kollur'. There were some people who told us that it is a shorter route to Kollur, but the barge (ferry) was grounded because of low water level in the reservoir. That road would have taken us to Holeybagilu (5kms), then the barge would have ferried us across the reservoir to Kalasavalli from where Udupi is 130kms away via Kollur. Home was just 135kms away, but we could not take this route.

Some 20-25kms before Sagar at a 'T' junction we stopped to ask for petrol. I can not recall the name of that place. It was about 7.00pm. At a local shop I got petrol which smelt like kerosene. Prashanth has this habit of chatting up with people and had 3-4 villagers around him listening attentively. When I joined, one of those villagers told me 'Sir, don't go back by Kogar ghat road. It is not safe after 8pm. I suggest you take this route (pointing to 'T' deviation) via Battemallappa, Hosnagar, Nagar, Mastikatte and down the Hulikal ghat. It is safer'. Now there were about 7-8 villagers around us worried about our safety. Some of them suggested us to stay back at the village. At about 7.20pm we parted with these good fellows. I knew if we were to stay for 5mnts more, Prashanth would start discussing about crops, loans, family, daughters, marriage, and other personal issues; so I hurriedly started the bike. Prashnath was waving, saying "Matte Sigona".

By 8.30pm we were at Hosnagar. Cousin Manjunath, who is 6.7ft tall, lives here. We asked about Manjunath at a PCO and added 'udda iddare'. The PCO boy gave precise direction and we stopped the bike right in front of Manjunath's house. Being tall has its own advantages! After dinner we started at 9.30pm. After Mastikatte, traveling down the ghat was a scary experience. It was pitch dark, no lights around, not many vehicles from either side and I heaved a sigh relief on reaching Hosangadi where the ghat ends and it was 11.30pm. When we reached Shankarnarayan, it started to rain and we had to stop. We had to stop again at Haladi, Bidkalkatte and Brahmavar because of rain. By the time I dropped Prashanth at his room and reached home it was 2.15am and distance covered was 462kms. Prashanth bunked office next morning.




In January 2004, I went to Kalasavalli via Kollur, Nagodi, Byakod and Tumari, a distance of 130kms from Udupi. Barge was ferrying people/vehicles across to Holeybagilu and back to Kalasavalli. Madenur dam was visible at a distance. Water level was up to 3/4th of the height of the dam. When Prashanth and I had visited the dam I remembered seeing some vehicles on the other side of the dam and enquired about it at Kalasavalli hotel. The hotel owner told that the approach to that side of the dam is from Tumari via Valagere a distance of 10kms. Tumari is 8kms before Kalasavalli and 45kms from Kollur. So the dam is at a distance of just 132kms from Udupi and we ended up riding 235kms roundabout way to reach it!!

I went to Kalasavalli again in May 2004 and May 2005 but the water level was not low enough for the dam to be visible in full.

It rained a plenty last year and this year (2006) the rains have arrived by 20th May itself, so there is no chance of the dam being visible in full. I continue to repent for not staying back at the dam for some more time.

On April 26, 2004 after casting my vote early in the morning in Loksabha elections, I went to see the lovely artistic Tadasa Bridge near N R Pura. The bridge was submerged in the Bhadra backwaters after the Lakkavalli dam was built.

| | |
| --- | --- |
| | |

Unlike Madenur dam, which is visible in total only when there is less rainfall the previous year and late arrival of rains in the present year, Tadasa bridge is visible in every summer when the water level recedes in Bhadra reservoir. My Yamaha RXG traveled from Udupi via Manipal, Hiriadka, Hebri, Someshwara, Agumbe, Kaimara, Hariharpura, Koppa, Aralikoppa and reached Narasimharajapura (N R Pura) a distance of 108kms.




A nondescript mud road from N R Pura leads to the edge of the submerged area. There are remains of old road from N R Pura to Tarikere, with naked trees on both sides of what appears to be a road. One can navigate the vehicle easily on this old road and after a while the bridge makes appearance at a distance. It is better to avoid the water and ride on the dry bed of the reservoir. The large pools of water here and there can be avoided by riding around them as the loose mud is a big threat. The landscape is barren. All the trees have been cut. Trenches have been dug by the forest department on the old road to avoid the movement of heavy vehicles or else the old road and bridge help in making easy getaway for smugglers who cut the trees in the forest beyond the reservoir in summer.


| | |
| --- | --- |
| | There is no shelter from the harsh sun. Still it is a place couples and nature lovers would love to spend time. Loneliness is available in plenty and no one comes here. There was no sign of life anywhere near. I was feeling like king of the area till I saw some movement behind a large stump of a tree, when I deviated from the old road to avoid the large water pool and started to ride around it to reach the other side. To my astonishment despite the harsh sun a young couple was lost in their own world oblivious to the loud noise my Yamaha was making. As I neared the bridge I saw the tell tale remains of old houses and a well. There was water in the well and even fish. |

I parked the bike some 300meters from the bridge and started to walk as I had to cross water in between. The water level was low but the fear of loose mud made me use a stick and test the ground ahead and then take the next step. Luckily the ground was firm and soon I was on the Tadasa bridge. The bridge is still strong and is lovely. Like all the old structures it is strong and solid. There is a large trench on the bridge to avoid the movement of vehicles. The Bhadra river which once was flowing under this bridge, now submerges this bridge as a result of the dam at Lakkavalli. This bridge used to be a direct link from N R Pura to Tarikere via Tadasa. Now the roundabout way to Tarikere via Lakkavalli is about 50+ kms more.


Rajesh Naik.


more photos http://karnataka.fotopic.net