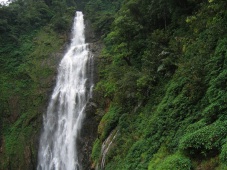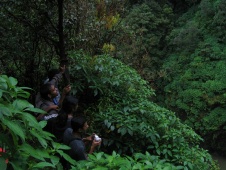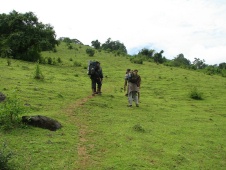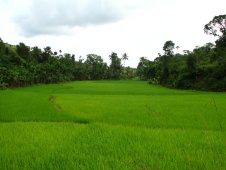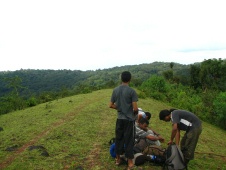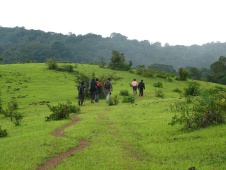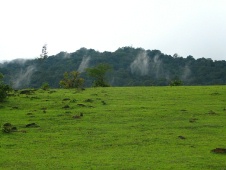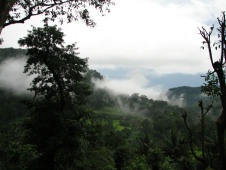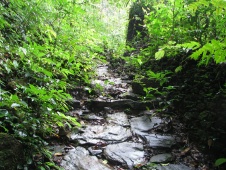 Dabbe and Kanoor Kote
Four days of holidays were not meant to be wasted away. Seven of us (Anil, Manju, Gururaj, Bharath, Satish, Naveen and myself) were on our way to trek to Dabbe Falls and Kanoor Kote. We gathered the information from "dreamroutes" (of course) and few other personal web pages.

With a calculative time of 2 days of trek we booked our tickets to Kargal, which is past Sagar. We started from Bangalore on Wednesday night by KSRTC bus at 9:45 and reached Kargal 6:30 morning on Thursday. We also got a glimpse of Jog falls on our way since the bus stops at Jog. With no intention of wasting time, we hired a jeep at Kargal to drop us near gowdara mane [One could also take a bus to Hosgaddae from Kargal, and trek for 3 Km to reach gowdara mane]. The green paddy fields in front of gowdara mane, uncovering from morning fog was a treat to watch.

Dabbe falls is about 30 minutes downhill climb from this place. We dropped our luggage at gowdara mane and started walking down the valley to towards the falls. Even though it was damp due to rain, the climb was not difficult up to a point where we could get a beautiful and stunning view of this huge steam of water dropping as dabbe falls. These are the waterfalls of Karnataka which have not been polluted with frequent tourist and hence still preserves its heavenly touch. Getting further down till the bottom is bit difficult from this place and a small rope would be of help. We decided not to proceed further and started climbing back up the valley. It was about 12:00 in the noon and we couldn't stop from walking into the paddy fields to be in the middle of the open green court surrounding us. We happen to met two men who had come to work at the fields to gowdara mane and soon found ourselves chatting with them about kanoor kote. We even requested one of them to join us till Thomas (doctor) mane.

Ashok agreed to join us and insisted we take a different route rather the one which is from within the forest. The reason, leeches. He went ahead and explained that the leech count was quite high and even they try to avoid that route. He promised a route which did not take a detour and was also safe. We continued with him to discover that, what he suggested was one of the best treks we had. We walked along the vast paddy fields, talking to people who owned them along our way. Taking small breaks at their houses for water and offering some chocolates for cute kids. Added to this were few hills which were to be crossed whose peak offered beautiful view of valley, the cultivated land and forest. At about 2:00 we decided to have a lunch break on top of a mountain enjoying the scenic view and peaceful ambience. We continued walking passing many more paddy fields, forests and hillocks. At about 4:00 we reached Kanoor village. Ashok directed us to a road which entered the forest and told that the road would lead to Thomas house, no diversions anywhere and would be another 6 kms. We thanked him for his help and continued our way into the forest.

Just as we had walked for about a 2 km and it started drizzling. The thick forest, the silence topped with rain water sound and chocolate bar, everything looked perfect until we took a look at our legs. I could see around 10 leeches on my legs, same was with others. The whole area was infested with leeches. We increased our pace cursing them, but the leech bites never seemed to end. Few seconds you stop to clean up you leg and there you see double the amount approaching you, we decided we take a jog and started running for a while. We continued our trek for about 45 minutes cursing each and every leech and those 45 minutes were the not-so-rosy part of the trek. As we saw a house, we decided to take a detour to clean up some of the leeches. By this time each of us had at least 20-25 bites. We enquired about Thomas house and started walking back towards our track. It was already 6:30 and all of us were quite tired. At one point one of us decided to head back and try to rest at a house we had passed by, but then everyone agreed to move a little further. Just when we thought we were done, we saw betel nut trees, that was the sign, we had reached Thomas's house.

Thomas, also know as doctor was an elderly and amazing person to talk to. He and his wife live there and welcome all trekkers who seek to spend some time at their house. He cooked us some food, which was one of the best meal we could have had and offered a place to sleep. In no time, we were sleeping like babies. The day ended leaving a memory of one of the best trail one could expect; crossing hillocks, bridges, green fields, forest and streams.

Friday morning 8:00, Thomas gave a piece of paper which had hand written map showing route to Kanoor Kote and way back to Gerusoppa. With some wisdom words from the elderly man we started our trek toward Kote at 9:00 in the morning. It was fresh, energizing and pleasant morning. We continued our way towards kote, to reach a small pond. According to the map, we had to turn right and continue on a short-cut to reach a junction where one road leads to Kote and another leads to Gerusoppa (our final destination). Just 200 mts and we were there, the serene place, the kote. Ah! What a moment, we ran around the ruined fort, got few pictures and took a break to indulge ourselves in the quite atmosphere.

Back from the junction we continued our journey towards Gerusoppa. Two advantages along this trail were, it was downhill all the way for 9 km and added to it there were very few or no leeches!! It was a carefree and easy walk in the dense forest. After about 6km we reach small village whose people guided us the route to Gerusoppa. On our way back, we took a break besides a banana plantation field to have our brunch, the time was 1:00 pm. The trek continued for 3 more km crossing mountains, bridges and streams to reach Bastikere. We had to cross sharavathi river in boat to reach Gerusoppa. Finally at about 3:30 we reach Gerusoppa and started playing in sharavathi river. Were we tired? not at all. Gerusoppa is a well connected city and we could easily find a bus to Honnavar. Journey in the bus was a filled with munching snacks and recollecting wonderful moments of the two day trek.

Lohit Vijayarenu