Lakavalli : A piece of heaven on Earth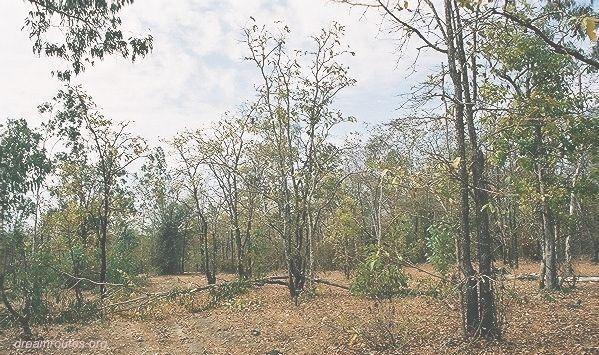 "Wake up!" said Atanu, "it is Tarikere". Squinting my eyes, I pressed the glow switch of my watch. 3 in the morning. Nice time to quit sleeping. I nudged Sumana, my wife, "Get up, we gotta get down here". "Get up and then get down?" puns she, not losing her sense of humor even after spending 5 uncomfortable hours half-asleep in the hard seats of KSRTC. We grabbed our sacks from the luggage space overhead and got down. It is completely dark, only a big halogen lamp was brightly lit in the village circle, and one tea shop was open probably with hope of some customers like us. "Now what?" said Shukla, Atanu's fiancee, who came in her first jungle visit with us. Well, "we can open sleeping bags in the bus stop and wait for morning, or else ...", I mused. "Or else, I can spot a solo headlight in the haze, must be an auto", Sumana interrupted me. Indeed. An auto appears. Atanu and I proceed towards him. "Lakavalli?" "130 rupees" "Hmmmmm ... now?" "Now". Sumana and Shukla were still toying with the idea of sleeping in the bus stop, but we assured them they can do it even after reaching Lakavalli. After all, it is only 22 km from here. "Fair enough", admitted they, and we four hopped in.
It was not a smooth ride, but eventually as most other reads, this also came to an end. A dark village, no lights around, forget of seeing a soul. Only a tea shop, half of the window open, is getting ready to serve the customers. Now? It is just 4! The auto driver seemed very friendly, he just won't leave us in the wee hours in the morning there. "Forest range office?", asks he, "hop in". "Hey wait! We'll comfortably spend time till morning on that bench. Don't worry". Nope, he is more pursuant than many people I have ever met. "Banni Sir", an invitation we had to finally accept. The forest office has a big compound, and well secured by wire-fences. Our auto driver managed to wake one forest guard up, by shouting at the top of his voice for 5 minutes. "Whassamaarrer?" he asked, definitely got annoyed by the interruption of his sleep in a cold January early morning. "These ladies and gentlemen came from Bangalore", introduced our driver, "and are your guests" he concluded. The forest guard flashed his torchlight on our face, and walked back to the staff quarters, and when he came back, the range officer on duty was with him. After a full minute of apologizing, we explained we came from Bangalore to visit Lakavalli, and we would like to occupy the inspection bungalow overlooking the Bhadra dam. And of course, we are willing to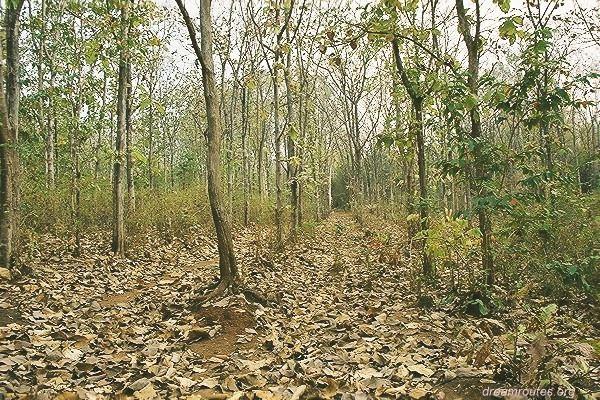 wait till morning. He was one of the most cordial person we've experienced, and immediately he got a jeep ready for us for a drop in the inspection bungalow. After profusely thanking him, the auto driver, the jeep driver, we got in the jeep which gave us another bumpy ride to the inspection bungalow.

We had a two hour sleep, and tea was almost ready when we finished with our responses to the morning nature calls. We came out to stand on the lawn, and felt we have never been to a more beautiful bungalow. The lawn slopes down to the water of Bhadra dam through a few bushes and shrubs. Then the huge dam surrounds three sides of the bungalow, with a few islands here and there. On the other sides of the dam, in different shades of gray, there are different ranges of the Bhadra valley. It is stunning, silent and serene. We don't know how long we stood there, holding hands, and absorbing the beauty with all of our five senses. "Let's move down to the water", I suggested, waking up from a dream that lasted one more day. So we made our way through bushes and reached the water. Chilled. "What are they?" asked Sumana, pointing to a flock of 4 or 5 birds up there, doing a synchro dance as their steel-made counterparts. "River Tern", said Atanu, without taking his eyes off from the binoculars. We watched the Terns playing for some time, and then started exploring the area. Rocky, and they usually be underwater. Lack of rain this year done a havoc, and the water level of the dam is already more than 10ft below normal. Sumana chased a White-browed Wagtail for a photograph, but it was in no mood to oblige her. We came back via a different route, and happened to meet a large flock of Golden Orioles.

When we came back to the bungalow, the jeep was already waiting for us. We just caught up with some breakfast and hopped in. The jeep took us the forest range office where we met Mr. Venkatesh, the range officer. He is an extremely friendly man, and gave us a warm welcome. He wanted to know our plan. "Well, we want permission to trek, ... and ... and, that's it", I didn't know what to ask. "Fine", said he, "you can go in trekking tomorrow morning. Today I'll get a jeep for you to move around in forest, and in the afternoon you'll get a boat ride in the lake". Boy, it was much much more than we were hoping for! So we thanked him profusely, and started our jeep ride in the forest. The start was good, as we entered the forest we saw a Paradise Flycatcher and a Goldenbacked Woodpecker. Then there were several Racket-tailed Drongos. The jeep moved through the dry deciduous forest, sometimes over a definite track, and sometimes I think it just made it's way in the jungle. We had a fantastic company, who were probably more eager to show us wildlife than we were even at the seventh hour of traveling inside jungle. "Serpent Eagle", shouted our driver, as I saw a huge raptor to fly away from the high canopy. "Hmmmm", thought I, "next time I see one I'm not missing a shootout". Actually, till today I dream of shooting a serpent eagle, even after seeing in several occasions on that day and next day.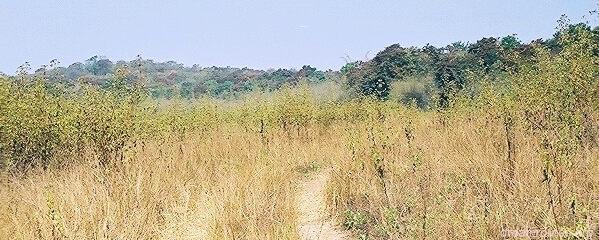 So our jeep moved on. The jungle is brightly colored, as many of the trees were in bloom. We happened to meet several folks of Spotted Deers, Barking Deer, Langurs. One of the most exciting sighting was seeing Malabar Giant Squirrels, which allowed us quite some time for taking photographs. The jeep brought us close to the reservoir, and we noticed several birds flocked around the receding waterline. We moved over the grassland beside the reservoir, and finally we came to a forest department camp, named "tadsa". The camp is located just a few hundred meters from the water, and has a deep elephant ditch around. We got introduced to the men there, and were offered tea. It is difficult to gauge the hardship of living in such a camp. We being so called civilized and social people, seek isolation off and on to recharge ourselves. And the forest guards living in there fight over the single radio they have, the connection to civilization. We continued our jeep ride, and the next award is a pair of Malabar Grey Hornbills. And as we moved along, near a stream we got a pair of Malabar Parakeets. After a while we reached an almost abandoned building, probably the most remote forest bungalow in India. Built in 1905, the structure is still intact, but would require some repair to stay. Footlong grass have grown all over the compound, and the water supply is dry. "Actually it is possible to stay here", informed our driver, "just get all your rations and get permissions from the authorities". Really! I want to spend tonight here! But that looked like a remote possibility as the bungalow will need some attention before one could make a plan. But I vowed to myself, if I come back to Lakavalli again, I am going to stay here for a night, whatever it takes.

All of us were really tired by then, and the return journey was more than two hours long. All of us were very exhausted, and we had a hard time to keep up the enthusiasm of finding any more birds or animals in the forest. So we reached our bungalow after seven hours of jeep ride in the forest.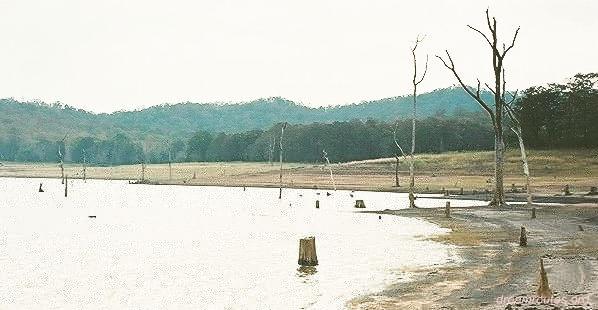 "Where were you guys?" exclaimed the bungalow caretaker. "The lunch is ready". Wow. What else on earth we could want. We barely washed hand and jumped on food, only to find it was infested with chillies! Among a few "fire", "fire" cries and tearful eyes, we finished our grub, and came to know the boat is ready to give us a ride on the lake. We forgot our tiredness, and hopped on the jeep. It took us down the slope of the reservoir, where the motorboat was waiting. We got in. It was breezy, and we could see the Terns flying above us in pairs, doing all their acrobatics in mid-air. The reservoir is man made, it is made by a dam constructed over Bhadra river. So that portion of Bhadra Valley went underwater, and only the stumps of the dead trees announce that once the place was green and live. The stumps makes excellent rest places for Cormorants, Darters, Kingfishers, and our beloved Osprey. We spotted a few individuals on the stumps, looking down towards the water, for some movement of a unsuspecting fish. We landed on the distant side of the lake. The waterlevel being very low this year, there is a big open space from the waterline to the nearest greenery, and made an excellent place to relax and enjoy the tranquility. Our boat-driver wanted to get inside the forest to collect some wood, so he left us on the bank and went in. It was getting dark and windy. I walked on the muddy shore, and found fresh footsteps of Gaurs. When I was wondering if they'd come back for a drink, our boatman came back with a few wooden planks, and we started back towards the inspection bungalow.

It was probably one of the best evenings we spent together. The sky was full of small diamond jewels with a huge locket. The whole beauty reflected on the lake. And it was silent. We were sitting on the lakeside, pulling chairs from the bungalow.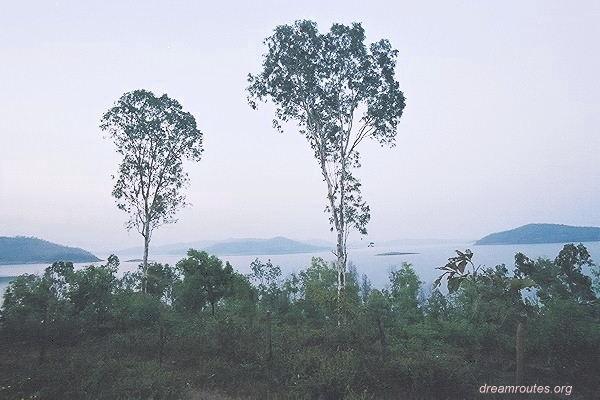 We held hands, sparingly whispering each other that probably our life would have remained incomplete if we didn't spend an evening blessed by nature like this.

The night was cold, still the alarm woke me up. As I turned off the alarm, I got tuned to another music. A Malabar Whistling Thrush is singing outside. I woke up Sumana, it'll be too bad to miss the melodious tunes of the bird. We were ready for trekking in a couple of minutes, and the jeep arrived sharp on time. We followed the same track as of yesterday, only after half an hour of jeep ride it dropped us in the middle of the forest, and went back. So we four started our trekking and photography with the forest guard who was our guide. We walked along the dry deciduous forest, and some teak plantations, which were done long back, and no one ever touches them now. So they have actually become the part of the natural forest. We saw a flock of Plum-headed Parakeets flying overhead, and spotted the Coppersmith Barbets who were filling the air with their calls. We walked through the teak plantation to come out to an open area, after which all we could see are thick bamboo bushes. The ground is covered with fallen gray bamboo leaves, and on top many of the sticks are in bloom. There are birds everywhere, Sunbirds, Flowerpeckers, Small Green Barbets, Golden Orioles all are busy with their daily activities. And it is just the wake up time for the butterflies ... and the first to catch our fancy was a Blue Pansy. When we were crawling for it, we saw another raptor overhead. But no luck. We continued, as we kept encountering butterflies like Baron, Lemon Pansy, Yellow Pansy, Sailor, Crimson Rose, Common Rose on our way. We came down to dry lake bed, which has become the grazing ground of barking deers. They saw us and ran back to the forest from a distance of half kilometers. In t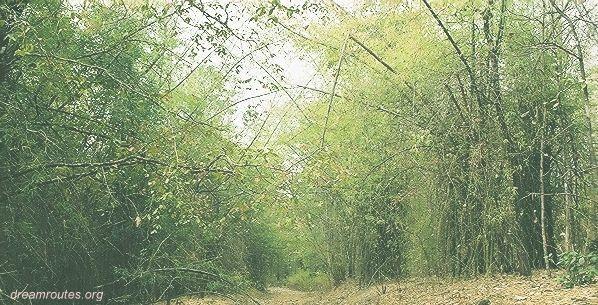 he lake bed we found a Wood Sandpiper, and a Yellow Wagtail. Time was running out, so we started walking back to the gate. This time we took a different path, and came through a completely dry deciduous forest. Suddenly shocking all of us, a spotted deer ran past us within a few feet. The forest became denser, and after half an hour our guide announced that we are lost. Well, there's nothing much we can do, we assumed a direction and walked ahead. Suddenly I remembered that I have a compass in my camera bag! I whipped it out "hey, now we can find our way". I gave the compass to our guide "can you use it and find our way"? He looked at the compass with a lot of interest, and said "nice looking device, sir". Sigh. What good a compass is if you don't know which direction is your exit. After another 30 minutes of walking, we found a seldom used jeep track. "Hurrah", we rejoiced, as it must be leading us to the main jeep road. And surely, we landed in the main road in a few minutes of time. Now what, left or right? "Obviously left", said I, "we took a right from this road, and never we crossed". Atanu supported me "by all means". But our guide was very confident "we have to go right, sir". "No man, we have to turn left". "No sir, exit is on the right side". We gave up. After all, he is a local man. It wasn't even half a kilometer we walked we found our jeep driver and another man approaching from the opposite direction. "Where are you going"! "This is the reverse direction! I waited and waited for you and finally came searching". So we turned back.
We came to meet Mr. Venkatesh in the range office, and we had a pretty long chat. Though born and brought up in Bangalore, he is so dedicated he came to a place, so far from civilization, to protect the forest. We came back to the bungalow in the afternoon, packed our bags, and spent rest of the daylight in photographing a Signature Spider. Just before dark we started our journey back, and in the path downhill we saw a lone Indian Pitta foraging. We took a bus to Shimoga, and reached Bangalore next morning taking Shimoga Express.


Information
How to reach
Nearest town: Tarikere 22kms, Shimoga 45kms. Auto from Tarikere and bus from Shimoga is available. Shimoga is well connected to Bangalore by train (6227 Shimoga express leaves Bangalore City at 2300, reaches Shimoga at 0440) & bus (every 2 hours or more frequent), and Tarikere comes 30 kms before you reach Shimoga.
Where to stay
Looks like there are only two IB (inspection bungalow). One is owned by the Karnataka State Forest Department, and the other is owned by PWD. The Forest Department's IB can be booked from Chickamagalur forest office. Accommodation for general public is not available elsewhere.
Food
The IB caretaker's cooking is good, but sometimes he puts too much chilli. You don't have any other option anyways. Some tea shop may be available in Lakavalli village circle.
Moving around
Again, no option other than Forest Department's jeep. The availability is not guaranteed. If the jeep is free, it can take you. Please reimburse the fuel. Best option would be to go on your own jeep and pickup a guide. You can walk, but be warned, the sanctuary gate is almost 5km from the IB. You'll already be tired if you walk from there. Also a boat can be arranged from Forest Dept to have a ride in the dam.
© Kousik Nandy 2003. Permission is granted to copy, distribute and/or modify this document under the terms of the GNU Free Documentation License, Version 1.1 or any later version published by the Free Software Foundation; with no invariant section, with no front cover, and with no back-cover. A copy of the license is available in http://www.fsf.org/licenses/fdl.html
the original travelog may be found here.
http://www.geocities.com/kousik/lakavalli.html
top of the page
dreams home