For a regular traveler between Udupi and Kumta, Koosalli falls attracted me every time I commuted on this route. Koosalli falls is visible as a clear and long straight line in the western ghats from the hillock after Byndooru. There was desire to visit this falls but it never materialised and that is until one day in November 2003, I took off on my Yamaha RXG from Udupi, early in the morning. I reached Kallikone (from where the walk starts) via Kundapur, Byndoor, Shiroor, Shiroor Check Post and Toodalli a distance of 88 kms from Udupi. Regular bus service is available till Shiroor Check Post. Toodalli is 7 kms diversion from Shiroor Check Post and Kallikone is 4.5 Kms further. Limited private and ST buses ply up to Toodalli. Safe bet is to hire an auto from Shiroor Check Post to Kallikone.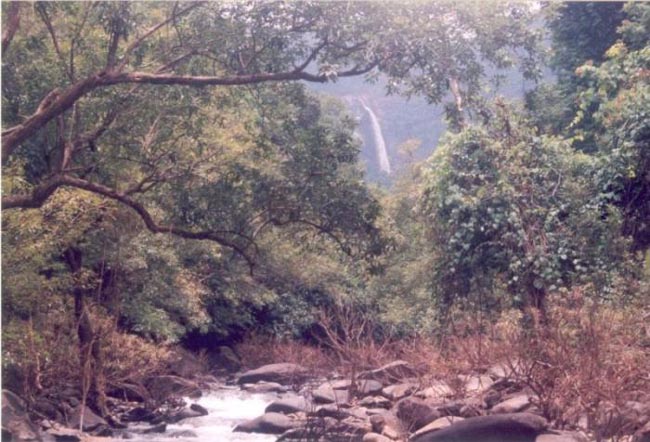 Koosalli Falls from a Distance


At Toodalli, I took the left turn as the tar road continued that way. The road that went straight was a mud road, and was in fact the right way. After couple of kms I stopped at a house to ask for directions. The owner of the house told that I need to go to Kallikone and asked me to go back to Toodalli and take the mud road. Then suddenly jumping out of his chair he told me excitedly that the owner of the last house at Kallikone, Narayan Kallikone, was at Society shop at Toodalli, when he came by some time back and asked me to hurry as he may still be there. Now it was my turn to get excited. I raced back to Toodalli and found Narayan at the society shop. I told him the purpose of my visit. I offered him a ride to his house and he gladly accepted.

On the way to Kallikone from Toodalli, the falls makes appearance many times and it did look different to me from some angles. I was wondering how a waterfall, look like two different waterfalls. Narayan cleared my doubts when he told me that I was in fact looking at 2 different waterfalls! The other falls was Kudumari falls located at the village Chaktikal couple of kms from Koosalli.

Narayan's younger son Nagesh agreed to show me the falls and he took me to the stream 200mts away from his house and showed me the falls!!!! "There it is", he said, as if that's all I had come to see. He just did not believe when I told him my intentions of going near the falls. He told me that none had gone there alone. I asked him to come along. The main falls was visible through the opening in the forest canopy majestically and gracefully falling over the edge. Nagesh leading the way, I followed. It was a pleasant trek. Typical river path trekking. Rocks and boulders of all shape and sizes lay everywhere. In between Nagesh asked me as to what made me come alone and I am sure my answers did not satisfy him.

After 90 minutes of walk we reached the sixth falls. It was a fantastic sight. With the main falls visible partially in the distance up ahead, the sixth falls presented a real soothing sight. I got busy running here and there excitedly and clicking pictures while Nagesh sat down a little distance away looking amusingly at me. This sixth falls is about 50 ft in height and is broader. It just slowly and lazily cascades down over a series of outstretched layers of hard rock surface. Then we proceeded to fifth falls. Nagesh lead me through a narrow corridor and in 10 minutes we were on the top of the sixth falls. View from here was still better. A panoramic view of fifth falls with the main falls as the backdrop really impressed me. Fifth falls is about 100 ft in height and is narrow. The main falls looks awesome from here. Nagesh told me that the way up is steep and narrow. I asked him to go ahead. Only about a minute into our ascent towards the top of the fifth falls, Nagesh stopped rooted to the ground. He motioned towards a branch of a tree right ahead of us. There, pointing its triangle shaped head towards us and in all attack mode, was a Russel's Viper, most dangerous snake one would come across. Though it can't see during day, it could sense the heat emanating from our body and attack. That sight scared the hell out of me and immediately I asked Nagesh to start back.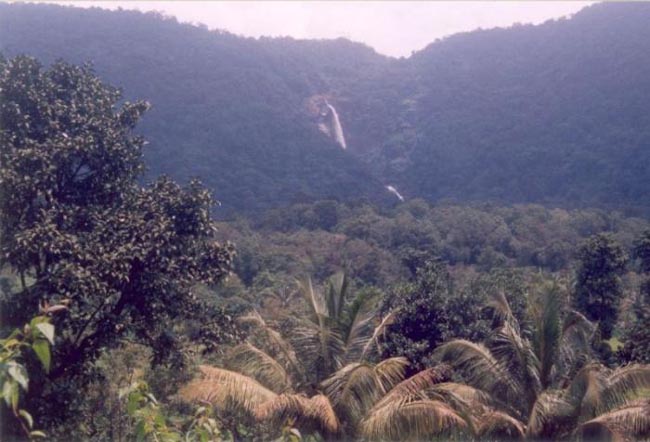 Koosalli Falls as seen from Kallikone



Half satisfied as I could not go towards the main falls, I returned home. Next day when I showed the photos to my good friend Dinesh Holla, a trekking champion himself, he started squirming in his chair uneasily. He just could not rest until he saw the place. We, 8 of us – Dinesh Holla, Sudhir, Sunil, Vinay, Praveen, Damodar, Ramesh Kamath and myself – were off a month later to Koosalli Falls. Since I had already visited the place, I knew we would not be able to see the place in one day. So we reached Narayan Kallikone's house on a Saturday evening. After a fun filled campfire and good night's sleep with cats, dogs, hens, cows around us we were off at 7 in the morning towards the falls. Again Nagesh came along. This time he did not ask me any questions, as it made sense (maybe) to him as I was part of a group.

Luckily no Russel's Vipers came in our way this time. The climb from fifth falls onwards is steep and bit tough. After nearly 120 minutes of trek many settle down for rest at fifth falls itself. Some give up when they see the way up towards the main falls. Some more turn back when after 10 minutes of ascent a big boulder blocks the path. All 8 of us reached this boulder. There is no way one can circle this boulder and reach the top as there is no 'way' to circle it. It is like a dead end. There is a single small tree that has come up right from the middle of the boulder with its roots encircling the boulder on both sides. And if one is to scale this boulder this tree is the only option. It needs some real circus and effort to haul oneself over this boulder. Ramesh Kamath found it difficult to cross this boulder and returned to fifth falls saying he would wait for us there. So 7 of us along with Nagesh proceeded further. After another 15 minutes comes another hurdle. Some of those who crossed the boulder give up here. It's a 20meter vertical descent. One must use the ladder technique to climb down and do so carefully and slowly. If descended carefully without panicking it is a very easy descent. Careful and steady descent and you are at the top of the fifth falls. One wrong step and you are at the bottom of the fifth falls.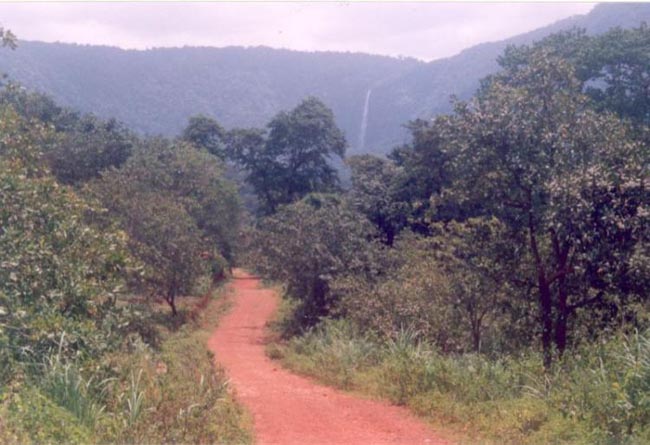 Kudumari Falls as seen on the way to Kallikone
Another brisk walk of 10 minutes through fourth, third and second falls which are all in-between 25-35 ft in height, and we were at the base of the main falls. A huge pond looks like a vast swimming pool between second and third falls and it adds to the beauty of the place. Then the main falls. Awesome, simply awesome feeling it was. Amazing height of nearly 250+ ft. We were all speechless. The landscape in front of the falls allows you to sit at various heights and enjoy the spectacle. Koosalli falls was the performer and it had 7 very admiring spectators on that day sitting in front of it and admiring its spectacular performance. After spending about an hour there we started back. The vertical climb was easily handled. But the way back towards the boulder and then after the boulder further down to the base of the fifth falls was real scary with all of us sitting and sliding and tumbling over every now and then. The branches and twigs of trees were a real help.

At the fifth falls, after another hour of fun, lunch and bath we returned to Kallikone. Though, named Koosalli falls, the approach is never through Koosalli village. The stream passes through Koosalli village, hence the name.

A year later on 21st November 2004, 15 of us descended on Chaktikal village to visit Kudumari falls. All 8 from the memorable Koosalli trek along with Giridhar, Ganapathi, Kishore, Prabhakar, Yatheesh, Bharath and Daryll made up the team. A week back I had come to Chaktikal for path finding to make sure the way we would be going a week later is the right way. Chaktikal can be reached from Shiroor Check Post via Toodalli. From Toodalli on the way to Kallikone, take the right turn when a bridge appears and continue till a church appears. Take the immediate left turn after the church and 2kms later last house at Chaktikal is the stop. Alternate way is from Byndooru via Muddodi.

Similar trek to Koosalli. River path and rocks and boulders just like in Koosalli. But the boulders are larger here. Trek was longer, tougher and the climb was tiring. It seemed like never ending. The climb was gradual initially and later on it became steeper. At some places we had to race, gain speed and run over the surface to reach the top of 45 degree shaped huge boulders. Ramesh Kamath twice lost speed midway and slid down all the way to the bottom of the boulder. Some places it was just vertical rock climbing. Luckily there were crevices in the joints between two boulders and we could manage.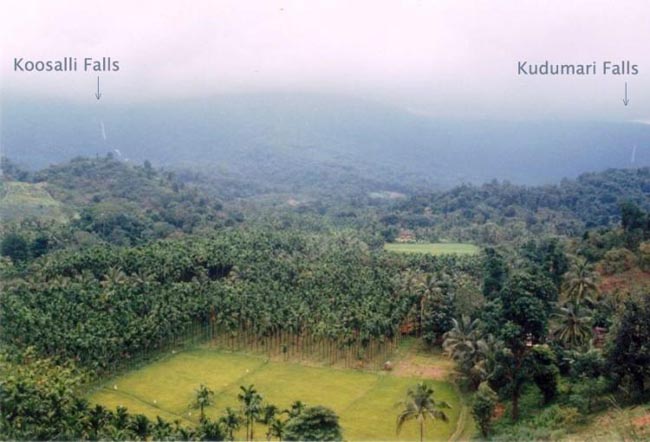 Koosalli and Kudumari falls in one frame
Towards the end it was kind of getting frustrating. We could see the falls, it seemed near, yet we were not reaching it. Prabhakar gave up and sat down in between. Bharath stayed with him and pumped him up and made him walk again. All the fruits were emptied even before we reached the falls. We could see Dinesh Holla, Sudheer and Yatheesh right up there near the falls, standing and looking down at us from what looked like a great height, and waving us to come on, not to give up and flashing thumbs up signs at us. Pumped up by their thumb ups, Daryll simply started running over the boulders and vanished from sight. Couple of minutes later we found him lying down gasping for breath on a huge rock. In a hurry to reach, he tired himself and rested more and more. Ramesh Kamath needs to be admired. Despite being 49 years of age, he comes to all our treks and completes them successfully. This time too he completed, quite comfortably. Sunil, being the youngest and smart looking was busy answering calls from his female admirers, the moment his cell started getting signal. Giridhar, himself an experienced trekker, found Kudumari very challenging. All in all we reached safely 150 minutes after we started from Chaktikal. Negotiating the boulders on steep way up took lot of energy.

Kudumari is a single fall of about 300 ft. The topography is similar to Koosalli. In front of the falls we all sat at a height enjoying the sprinkling of water on us and emptied our lunch. After about 2 hours we started back. If Koosalli was memorable, Kudumari was unforgettable.


Safe and Pleasant trekking to all…..

Rajesh Naik.


more photos http://karnataka.fotopic.net