The desire to visit Devkaar was intensified by an outstanding article about life in Devkaar by Mr. Seetharam Bhat. On 2nd Oct. 2004 Saturday, I started from Udupi at 06.00am on my 2wheeler (Passion) and by 09:15am reached Kumta. My friend Lakshminarayana (Puttu) joined me here thinking we would be back the same day. He had traveled overnight from Mumbai and was obviously sleepy. Puttu started dozing and repeatedly banged his head onto my helmet. His dozing got violent and he almost fell from bike. I stopped the bike near a big tree and asked him to sleep for some time. I was thinking of Devkaar. I can't swim and water is my biggest scare. One has to cross the backwaters of Kadra reservoir to reach Devkaar. I never bothered about night shelter, as I knew people are friendly. We started after Puttu woke up and crossed Karwar at 02:15pm.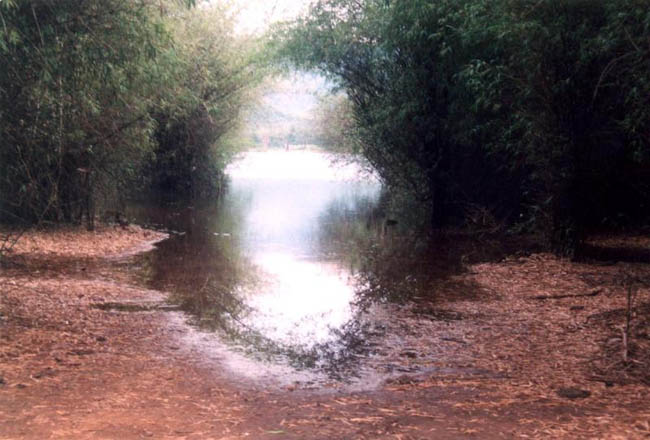 Bamboo welcome arch at Devkaar Boat Spot



Kadra Colony (KC) – 3kms before Kadra – is 37kms from Karwar via Asnoti. KC can also be reached from Yellapur via Kaiga and from Dandeli via Anshi. Devkaar bus stop is 25kms from KC on the way to Kodasalli. KC-Devkaar road was a beauty. No potholes, no people and no vehicle came from either direction. 25kms of pure joyous ride. The road meanders along the edge of backwaters and then you reach the so-called Devkaar bus stop. A right diversion here for 1km took us to edge of backwaters. Odometer showed a distance of 279kms and the time was 04:50pm.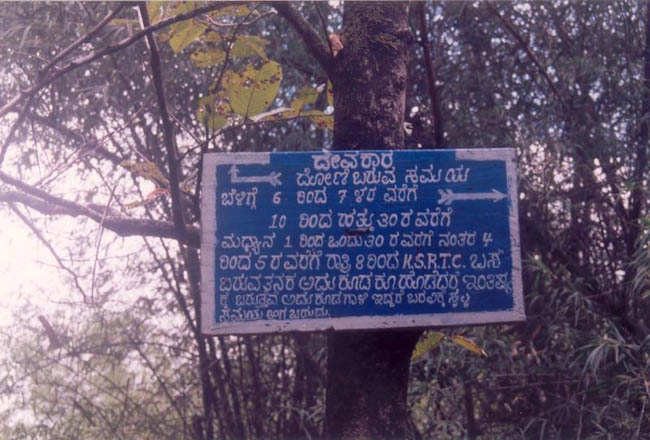 Devkaar Boat Information


When told that we have to cross the backwaters, Puttu lost all hopes of returning that day and his worries shifted to dinner and night shelter. He kept asking where to stay. We parked the bike on higher grounds and started calling the boatman. After 15 minutes of koooo kooooy, no sign of boat. Then a 2wheeler came and 2 guys joined us in calling and the boat finally appeared. If crest gates of Kadra dam were open, the boat would take a 'U' shape route, as force of water would pull the boat. Luckily the crest gates were closed. As we started sailing, one of those 2 guys started rowing and he was shaking the boat. I just kept praying and cursing this guy till we reached the other side safely. It took only 15 minutes but felt lot longer. I certainly did not think like him when that guy said that he hoped to see us tomorrow when they start back!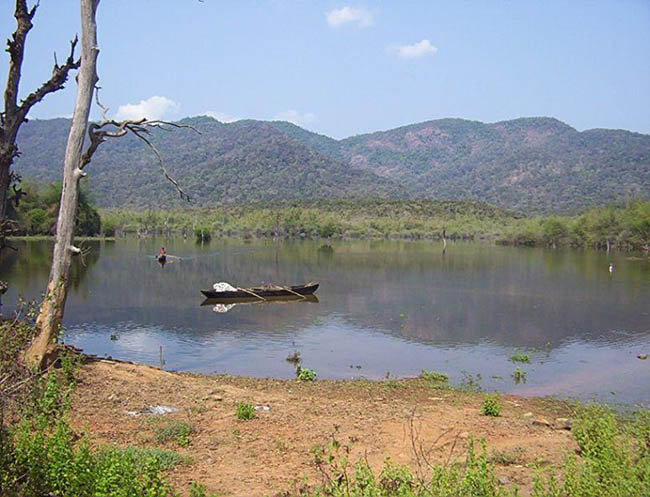 View from Devkaar side of backwaters


The boat sails over low-lying areas of Devkaar, submerged in backwaters. We proceeded into village with Puttu all the time asking and worrying about night shelter and dinner. I told him to shut up and follow. After 10 minutes we reached the edge of paddy fields. We could hear voices coming out of a house. I walked in, cautiously followed by Puttu. On seeing us the loud talking and laughing were replaced by pin drop silence. Around 10 people were staring at us. I asked for Madhukar B Kalas. Madhukar is Gram Panchayat member representing Devkaar and I had read about him as voice of Devkaar. After introductions we were offered water and jaggery.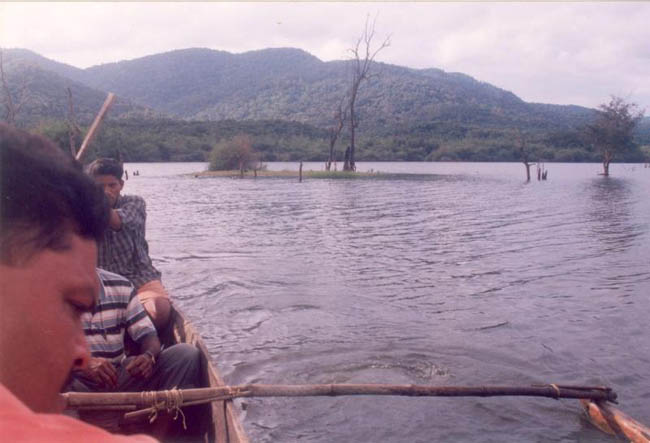 Devkaar Boat Journey


We discussed about Devkaar. Puttu, by now sure of night shelter, joined in. Devkaar has no road, no vehicles, no electricity, no telephone, no hospital, no shops, no school after 4th standard and so on. The village is isolated. Kadra and Kodasalli backwaters block two sides; Kaiga Atomic Power Plant (KAPP) blocks the third whereas fourth side is a tough trek route towards Baare (Yellapur Taluka), accessible only in summer. About 350 people live in Devkaar and all depend on one paddy crop. Irony is electric cables from Kaiga pass through Devkaar making a buzzing noise but Devkaar has no power!

There is only one bus, which arrives at Devkaar bus stop at around 09:00pm, proceeds to Kodasalli to halt there before arriving at 06:15am next morning. For all that they need villagers need to come to Kadra. If they miss the bus, then walk the 25 kms to Kadra or come back next morning. The sick are carried to Kadra on homemade stretcher. At Kadra, villagers buy whatever they need and wait whole day for 08:15pm bus! Once back at backwaters, a petromax light is all that's there in the darkness of night.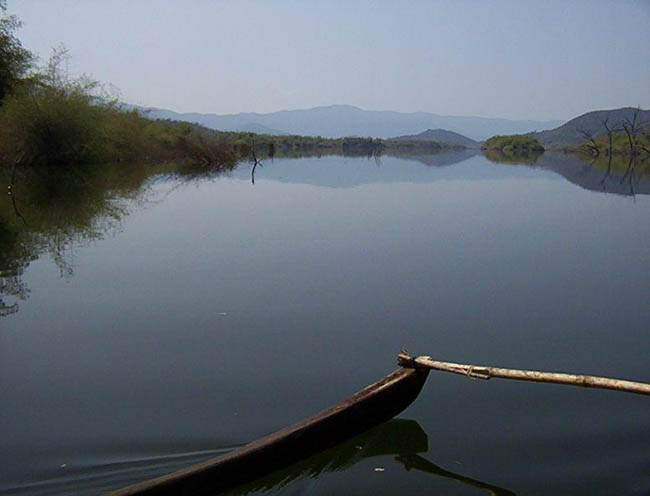 Kadra Backwaters


The late MLA of Karwar Mr. Vasanth Kumar Asnoti was pushing for re-settlement. After his death Mr. Rakesh Sharma, previous DC took up the issue. With his transfer things have come to standstill. Ten years back Kaiga was just 40 minutes walk, before the KAPP Project came up and the area became no entry zone. Kadra dam submerged the road to Kadra and Kodasalli dam cut off the link to Yellapur. Recognising that Devkaar's isolation started with its project, KAPP has deposited a certain sum with District Administration to be used during resettlement KPC, under whose purview the two reservoirs come, is maintaining a stubborn silence. Even KSRTC is not too keen to keep running the single bus service. Villagers want to get out of here and if resettlement takes place, Devkaar may well become a ghost village.

Puttu was now very vocal. Sign of a man whose worries – shelter and dinner – have vanished. At 07:00pm Madhukar lead us to his home and once there, Puttu told me to feel at home! Mrs. Madhukar cooked a delicious dinner. I was sleeping near window and morning calls of the hen woke me up at 03:05am, 04:05am and 05:05am. Perfect timings! Devkaar on a winter morning is superb. Mountains on all sides were soaked in fog. Breakfast was neer-dosa with liquid jaggery and ghee. Puttu forgot that it is breakfast and went on and on. At 8.00am we were off to Vajra falls, which separates Devkaar from Baare. It is a pleasant trek along river path with thick forest around. To start with, it is a walk on the bank and then it is back to negotiating boulders and rocks.


Water level was high and we went back to forest. The path was getting more and more difficult. Madhukar told that none might have come this far and that too in October and what he told was obvious by the forest growth. We prodded on with Madhukar making way with sickle. Then we reached a spot about 150meters from the falls, from where we got a full view of the falls. Vajra falls makes a single fall of about 300 feet. It then flows into Devkaar before joining Kadra backwaters. Madhukar suggested a nearby platform where we could rest. There, he showed us pugmarks of tiger. I didn't believe as those marks were on grass and looked bigger.

After hot water bath and lunch we thanked our hosts and started back. Puttu kept looking back, waving and saying 'poor lady, looked after us so well, I can't forget Devkaar'. He meant 'poor lady, cooked so well, I can't forget dinner, breakfast and lunch'. At the backwaters, I was pleased not to see that guy who gave me a scare yesterday. Two of us, a lady and her son with their three dogs in search of their cows, which had swum over to the other side and the boatman, made it 8 lives on boat. Just as we started one of the dogs panicked and jumped out. The other 2 dogs barked at their companion as if asking it to come back. It just raced away to shore. Some joke on water!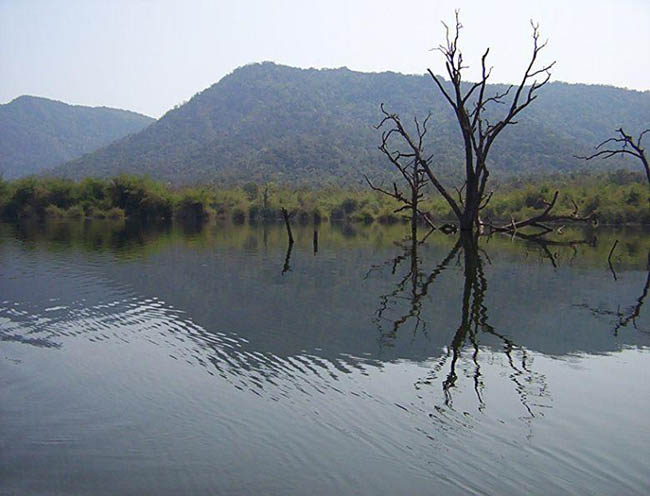 Kadra Backwaters


Now only the boatman was rowing and I could relax and enjoy the magnificent landscape. The half submerged bare trees looked like doing some kind of wild dance with their exact replica as reflection. The hills, trees, birds all looked superb with their clear reflection in still water. A half submerged large single tree is the only spot in Devkaar where one gets the mobile signal. The boatman took about 25 minutes to reach shore. On asked why it took longer than yesterday, he said the crest gates are open!!! Pull in water was my worst fear and it came true and I never knew it, thanks to the awesome beauty of the landscape and of course calm rowing by Shankar, the boatman. At 02:30pm we started back and after parting with Puttu at Kumta, I reached home at 10:30pm.

In February 2005, 6 of us – Jagadish, Madhav, Sriram, Adiga Sir, Raghavendra and myself – visited Devkaar. We reached Karwar by train and KC by passenger tempo. We hired Omni of Mr. Shetty to Devkaar bus stop and asked him to come back at 12:45pm next day. The fields were barren and open. Devkaar has a temple and in February festivities are held. Battery powered loudspeaker was in full swing. We visited Madhukar and then moved into forest to the spot of which I had made mental note of last time.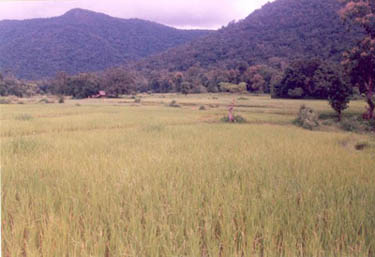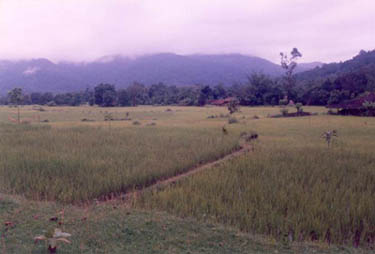 Devkaar in October


Trees with colourful leaves made pleasant viewing. Clear blue skies behind green hills with empty fields and houses here and there as foreground made fantastic postcard view. Our tent was up by 06:30pm. Adiga Sir took complete responsibility of cooking. Even floor and enough space resulted in sound sleep. In the morning we were off to Vajra falls. There was not much water but stunning surroundings captivated all. We visited the Tiger Platform. On our way back, Jagadish, expert at studying animal excreta, found some. He bisected it and what Madhukar had told me was true, it was indeed Tiger's! At 12:30pm we were at Devkaar bus stop and by 07:00pm we were back in Udupi.


There is no hardcore trekking in Devkaar. All of us liked the spot for its isolation, stunning landscape and Vajra falls is the icing on the cake. The noise made by various species of birds in the morning was wonderful. Jagadish, who had started with lot of business related tension, came back relaxed. Adiga Sir just can't stop advising all to visit Devkaar. In contrast, Puttu is still talking about dinner…breakfast….

Rajesh Naik.


more photos http://karnataka.fotopic.net