They say Himalayas has the final frontier to be conquered and there I was after a series of low altitude treks in South India on to the Himalayas for the first time ever in my life along with the best possible trekkers for this kind of endeavor, Rohan and Naveen. When Naveen first told me about the plan to Bhaba pass trek, I was eager to do the same, once I got the permission from office we were off to Himalayas.

There were three of us for the trek Rohan, Naveen and Shiva, we were joined by Vipul, TikaRam (Porter) from Shimla and Karan (Cook / guide) from Kafnu.

Bangalore to Kafnu:

For a change we started off from Bangalore Airport rather than the Majestic bus stand for our trek on August 19th, 22.35 Jet airway flight to Delhi, Landed up in Delhi by around 1.30AM on Saturday morning August 20th, We had planned to catch a train / bus to Shimla on Saturday, After spending some time in Airport we took a prepaid taxi to the Kashmiri gate ISBT busstand. Found out that the direct bus to Shimla will start by around 5.30AM, In the meantime we figured out that we can catch the bus leaving to Chandigarh leaving by 4.35AM from Delhi, which we did.

We reached Chandigarh's Sector 17 bus stand by around 9.30AM. After finishing our morning jobs and having Alu paratha we caught the bus going to Shimla, There are buses from Chandigarh to Shimla every 15 minutes or so. Bus journey from Chandigarh to Shimla was very tiring and finally we reached Shimla by around 3.30PM, we caught up with Naveen's friend Dinesh and his cousin Vipul, Had our lunch and headed to Hotel Kapil.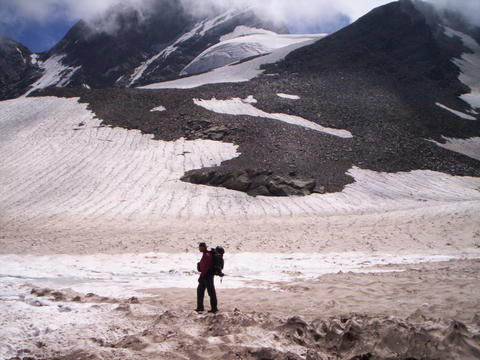 Dinesh took us to his home and then to the Viceroy's palace in Shimla, we retired for the night after having a good dinner. Next day morning at 7.30AM, August 22nd Sunday we took a bus going through Rampur to Wangtu. We were joined by Vipul and Tika Ram .The Kinnaur's Majestic hill view was simply amazing, the Road to Wangtu is a National Highway going through the Majestic Kinnaur Hills, we did crossed couple of Metal bridges built by Indian Army. The Journey was tiring we finally reached Wangtu by around 5.30 PM, after having stopped to fix a tyre puncture near Rampur, Wangtu was a great place with the mighty Sutlej's tributary flowing in full force. We came across the first Grass plants, Rohan was very much excited to see Grass all around us.

From Wangtu we took another bus to a small village situated in the Bhaba Pass Valley called as Kafnu. Found a good camping spot near the hydroelectric water storage tank. Kafnu is a small village mostly of apple plantations and lots and lots of Grass plants No wonder why foreigners come and settle down in Himachal. We settled for the day had our night dinner in a near by hotel and went for a much needed sleep.

Kinnaur Valley – Kafnu to Muling trek

August 23rd Monday was the starting day of our trek, in Kafnu we were joined by our cook cum guide (so called) named Karan, Had hot Alu-Parathas and started of from kafnu. From Kafnu we started off along the river for some distance and crossed over the river to start of our week long trek. From here the path was leading up and down through mostly forest sections with pine trees. We were gaining altitude had some breaks to refresh our selves. I happened to see a small glacier for first time in my life, it was a small glacier, a river was flowing underneath it, was a great sight. We progressed in a steady pace. Soon we met up with the Israeli troop of about 30 people and around 30 mules. They were having a great time walking with out any rucksack but were still complaining.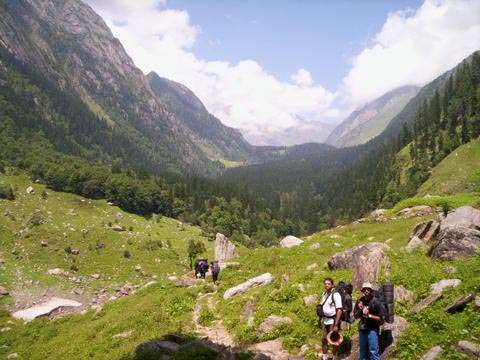 Had a break for some time and again started off, soon we were in for a nature treat, We hit upon the plains in between two ranges, The sight was simply superb just like a European countryside with green valley and pine trees all around with a gushing river in making it ways through the valley. We came across our first sighting of glacier in this section. Crossed over the river and took a break in the pine forest for lunch.

Started off again this time we trekked through the pine forest, it was a unique experience to trek in a pine forest for us who have trekked in the Western Ghats forests, finally came out of the forest cover after crossing over couple of stream to a great visual treat of snow covered mountain ranges with lush green plains. We took a break and started off again to our day's destination of Muling. After another two hours of walk we reached Muling valley.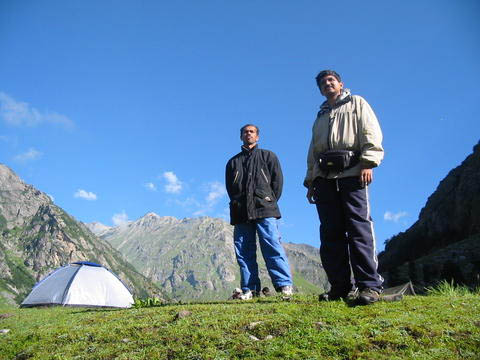 As with the other places we passed through in Kinnaur valley, Muling was equally scenic, Out came the tents while our porter Tika Ram and our another nice friend from Kafnu Karan started off to get some firewood, while Vipul was getting things ready for the night dinner. Our guys came back with an interesting fire wood, apparently they got wood from a tree from whose barks the ancient scholars were writing there literature. It was first time in our life we saw that kind of wood. We had lots of cows in our company that evening. Karan was telling us that the snow leopards in that region normally hunt these cows. In the mean time we happened to meet up with other team doing the same trek, but they were having a very luxurious outing in these valley. The trek organizer was taking care of every thing including tables, table cloths and chairs for them with salads, soups and hell lot of other things which is luxurious in a trek. Two of them were from US and one a NRI and they had around 6 guys to help them out. We also happened to get a hot soup from Premchand Negi the trek operator. In comparison we were carrying most of our stuffs in our rucksacks and had a heavy rucksack to carry on. But that's what we like and gives a feeling of a real trek rather than walking with out any rucksack or riding on a mule in the name of trek, probably I would like to try out that kind of luxurious trek when I am old.

Rohan was carrying his two man tent and Naveen his one man tent. I and Rohan were struggling to fit our huge muscular body in to his tent. Morning was simply great, sun was in full glory with its rays splashing on to the adjacent snow covers peaks and slowly coming down the plains. The scene of sun falling on a herd of sheep's on lush green vegetation surrounded by large snow covered mountains and stream was like to that of Scotland country side. We had our breakfast and started of our trek to Khara.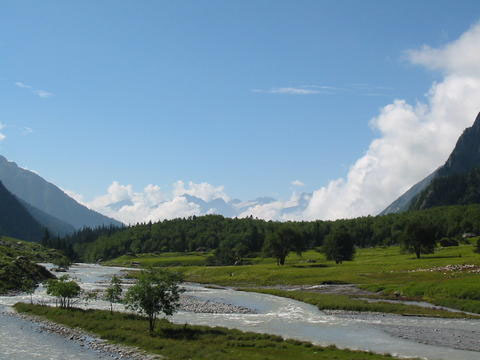 Muling to Khara

We had to cross over a peak to reach our day's goal of Khara. Initial trek on that day took us through lots of colorful flowers and thick forest, Karan was suggesting that lot of medicinal herb plats are present in this ranges. We crossed over a small stream and we were at the base of a moderate peak we had to climb up. The climb was slow as we reached up we could see the valley through which we had trekked through and all the peaks in that range, It was an awesome scene. We made steady progress and after couple of breaks we reached the top of the peak and started our descent down. In short period of time we were on the other side and back to plains, it was around 2.00 when we stopped over our lunch and also erected our tents behind a huge rock, this place is well known for gusty winds in the night and pitching tents in the open is not advisable.

Khara was a small valley in between two mountain ranges with the river crossing in the middle, Karan was claiming to have hunted on these green valleys which we were not ready to buy in. Had our lunch and we started off exploring the nearby glaciers and other places, we came across herds of sheep's and the guard dogs, these guard dogs are really tough one with a metal collar on there necks to save from the jaws of the leopards in the mountain ranges.

Evening was chilly and we settled down for an early night off, we had a big trek to Bhaba pass base the next day.

Bhaba pass Valley -- Khara to Bhaba Pass Base Trek:

Next day was a bit colder than previous days, we were steadily gaining altitude every day and were around 3000M above sea level at Khara. We took some great snaps around a still lake with a mountain peak reflection, had our breakfast and started off from Khara by around 8.30AM.

We got down to the valley and had a maze of river tributaries to be crossed, After crossing maze of cold chilling river in our bare foot we got on to the dry lands finally. We started off to climb on the slopes of the mountains, we made steady progress. Sun was blazing at its glory and slowly I was getting tired by this time. Took a break near a stream and again started off, we could see the difference in the topology in this valley , All the green pine forest vegetation were not there any more as were gaining altitude.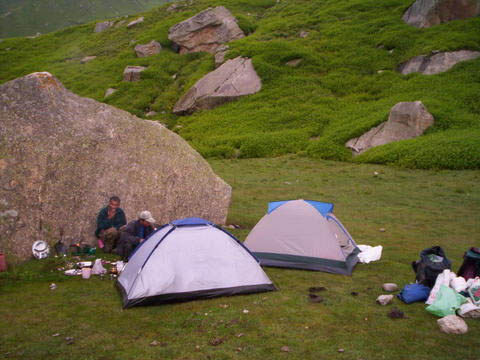 We crossed through couple of ranges and couple of streams and were progressing ahead, In front of the huge mountains we were like small ants and some where it was coming into my heart that we humans are so arrogant and we take things so much for granted.

It was around 2.00PM and we were nearing the Bhaba pass base, finally we reached the base and pitched our tents near a river. Had our MTR ready to eat food which we were carrying, It was so good I just can't explain after days of chapattis. Bhaba pass looked like a tough climb, we could see the first section which was a steep one with around forty five degree slope. The altitude at Bhaba Pass base was 3800M above sea level.

Had a small break and three of us started of to explore the surrounding ranges, we trekked along the valley for nearly a hour, from our camping spot it looked so near but it was a long walk, that made one point clear to us that we cant estimate the distance just by sight of it , the places are really far than what we can actually see.

We happened to see some shepherds in these high ranges, at the end of the valley we could figure out the path which will take us to Pin Parvati Pass trek. The view was amazing at this point, to our left was a huge glacier on a peak and behind it there were lots of huge peaks and to the right a peak which might take us to the Pin Parvati Pass. Came back to our camp and had a good dinner, I was beginning to hate chapattis and dhal by this time. We went to sleep dreaming about the next day accent to Bhaba pass.


Pin Valley – Bhaba top to Bulder

This was the D-Day for us, we had to climb the Bhaba Pass to an altitude of 4890M. We got up early and had our breakfast and started off to the peak. The first section was full of rocks and the path was leading to the first hill, we made slow progress on the uphill climb. Naveen with the other guys were making good progress while I and Rohan were a bit behind. The climb was a tough one with our heavy rucksacks pulling us down. We took couple of breaks and finally reached a small stream, which we crossed over. I made a mistake of climbing few meters on top of the path and was kind of got stuck with huge rocks to walk on. Thankfully Tika Ram cam down and took my rucksack and I was able to join with Rohan again. Just when we were completing the section 1 climb, there was a herd of sheep's coming down the peak along with them they were getting down small rocks it was a sight of mini land slide in front of me and Rohan, we took refugee behind some huge rock till the sheep's crossed us. These sheep's were like a devastating land army creating a mess where they go with no fear.

We reached the section 1 of Bhaba Pass took a much needed break had some glucose and we started off again towards section 2. Soon we hit up on the ice to walk on. We were at more than 4300M at this point of the day. Walking in Ice was fun the view of the opposite mountain ranges were awesome. After nearly 45 minutes of up ward climb reached the section 3 starting point.

We again had a break and started off towards the summit. By this time we were all round surrounded by ice, again we came across a herd of sheep's on ice. It was tough going ahead as we were gaining attitude the air was also getting thinner and with our fully loaded rucksack we were making slow progress. Soon we reached at the point from where we could see the summit, the NRI guys were standing over there. This particular section was too good. The glare of ice was eye blinding. There was a small steep climb and WOW!!, there we were at the top of Bhaba pass the feeling was awesome of that of achieved something which we had hoped when we left from Bangalore.

We just dumped our bags and went to the peak where there were lots of Tibetan flags fluttering in the cold wind up there. It was moment of satisfaction as we posed for the snaps. We were at 4895M above sea level it was unbelievable that I was there, but I had become a bit weak by this time. From the Bhaba Pass top we could see the Dry Pin valley on one side and the green Bhaba / Kinnaur valley on the other side what a contrast it was. From here we could see the Pin valley below us stretching far up to the horizon we had to cover that whole section in that day. Took some more snaps and had some fruit bars and we started our ascent from Bhaba pass on to the other side joining the pin valley.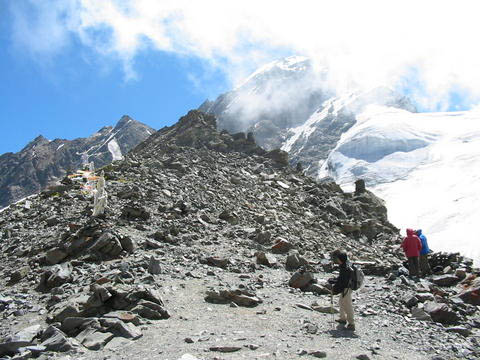 The adjoining peaks and the slope down to the valley were completely covered by glaciers we started getting down the Bhaba pass top, it was bit slippery initially. Naveen used his sleeping mat to make a crude skate and sat on it to get down the peak, the slope was ideal for skating. The environment was completely different than the other side of the Bhaba pass. This side of the pass is called as Pin Valley and it was a dry weather kind of environment. As we got down we came across some slushy area to walk on and finally we reached the pin valley base. We were entering the Lahaul and Sptit District of Himachal Pradesh. The climate of Lahaul and Spiti is similar to that of Leh and Ladhak, Its kind of cold desert out here.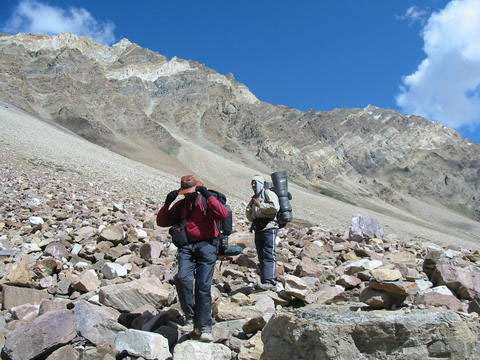 It was 13.00 by the time we got down to Pin Valley. Our famous cook / guide was of the opinion that in a hours time we should be in Bulder and so we can decided to have our lunch at Bulder, it was a decision which we repented later. From the starting point it looked like we have few kilometers to walk to reach the end of valley and then take a left following the Pin River to reach Bulder. Sun was at its peak and it was damn hot on this dry valley. The river which was traversing across the valley was brown in color, we made steady progress and enjoyed the views of mountains ranges. The Mountain ranges were full of stones of different shapes and sizes with varying colors. Some of the peaks were really amazing. We took couple of breaks but were pushing our selves hard. By around 4.30PM we reached the end of the valley and joined the Pin river tributary. From here we again started off in the dusty hot surroundings, we were covered by huge peaks on both the sides and a river gushing along the middle of valley.

At around 17.30PM we finally reached Bulder, All were completely tired and to top it all temperature was dropping off very fast. The cold wind was adding a bit to our sufferings. Vipul gave a big surprise by preparing hot soups, just what we were looking for. Bulder was a grass land with a plain valley suitable for camping over night. The temperature here drops down very fast as it is in a dry Pin valley where winds pick up the glaciers cold and will be blowing all around the day. Night temperature dips below zero over here.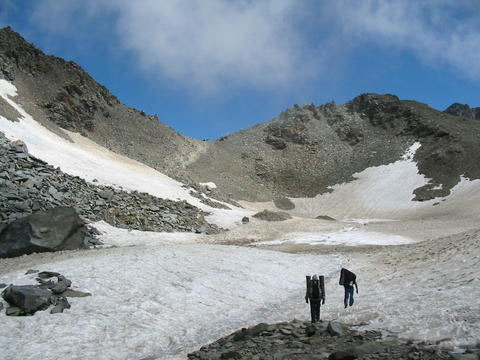 We settled down for much needed sleep that night knowing well that next day will be the final day of our trek through the Pin valley to reach Mud. Looking back on this day we had crossed over the Bhaba Pass and walked through the Pin valley a trek of around 25kms in a Day reaching an altitude of 4895M. Also this day proved that our guide did not have any knowledge of what this trek is all about. We had noticed from the first day that his estimation were simply way off the mark and our suspicion came true on this day that we were trekking in the Himalayas on ourselves. But of course this was the challenge we were more than eager to take.

Bulder to Mud

Next day a good sun rise warmed us up and we started off to Mud. We crossed a wooden bridge and started of our trek after a small climb it was a relative flat walk for couple of hours. We came across some tree sapling plating activities being undertaken by the Himachal Horticulture Department in this section. We took a break on the small green farm in the middle of what looked like a cold desert. In another couple of hours we were nearing a Tibetan village called Mud. We had to get down the hill and cross a hanging bridge then climb up again with what ever the final energy we had to reach Mud. At this place we also came across the Single Horn Ibex Bridge.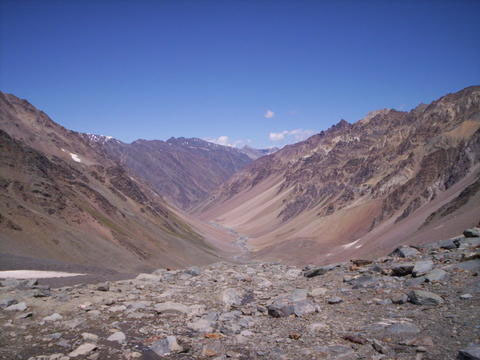 Mud welcomed us with a board saying "Welcome to Mud, 250 Souls are living in this Village". This was our ending point of our trek. My first Himalayan Trek.

We took rooms in Mud and had a much needed lunch. Mud is known for its green peas, we did try some green peas they tasted good. In evening we went for small walk and witnessed the sun going down in the valley.

Next day we took an early morning bus from Mud to Kaza which is in the Lahaul and Spiti District of Himachal Pradesh. Keylong is the District headquarters of this district. The bus journey was exciting we came across some of the sand formations and crossed across couple of villages to reach Kaza, I however was sleeping for most part of this journey.

Exploring Kaza

We booked a Hotel room and freshened up, we had good food and started off to Kibber and Kee Monastery, Kibber is the highest motorable road connected village with electricity connection in the world at an altitude of over 4200M. We visited Kee Tibetan monastery also evening had a good Tibetan dinner.

Next day we started off at 3.00AM in the morning in HPRTC bus to reach Manali. This bus route is one the amazing ride one can have. There were some stretches where there were no roads a just river bed on which bus was driving through. The surrounding mountains were simply amazing. We stopped over Kunzum La Pass (4500M) before reaching Rohtang Pass. Again I slept most of the journey in spite of the very bad roads or should I say no roads at all.

From Rohtang Pass we reached Manali by around 17.00 in the evening. We started to stuff ourselves with all kind of sweets and food to gain what ever we lost in the trek. Next day we did a small trek to the Solang valley near Manali. We visited a Shiva Temple below a water falls in the Solang valley. Naveen showed us the place where he underwent the skiing training.

Next day we walked over the Hidinba Devi temple in Manali and in the same evening we started off to New Delhi. From Delhi we took the night flight to reach Bangalore early morning. Next day as usual back to Office with a good tan on skin.

Well it was a great trek we had, it was a great experience for me to trek in Himalayas and I should really thank Naveen and Rohan for having putting up with me in this trek. Thanx guys!!

Regards, Shiv.